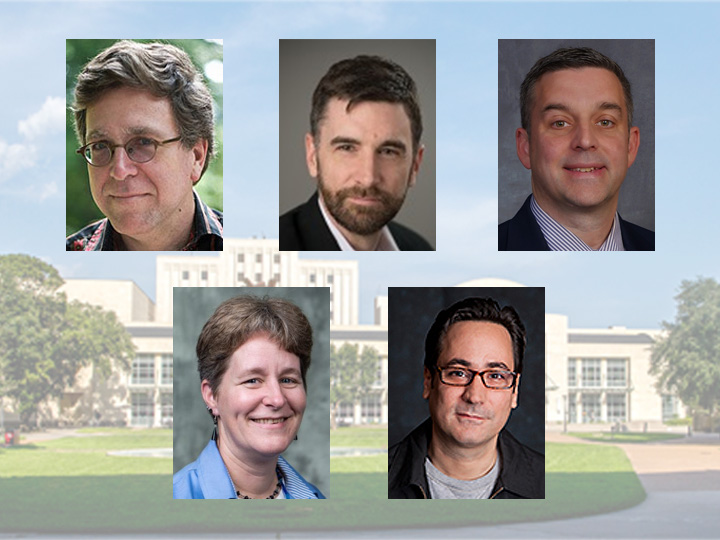 The College of Liberal Arts and Social Sciences at the University of Houston honored  five outstanding professors with coveted awards on May 2. The Ross M. Lence Awards for Teaching Excellence and the Distinguished Faculty Award are bestowed on faculty who have shown outstanding achievement in academics, leadership and community service each year.
"CLASS is a treasure trove of pedagogical excellence," Sally Connolly, associate dean for student and faculty success, said. "The Lence Award recognizes our most remarkable and dedicated teachers, and the Distinguished Faculty award recognizes the outstanding publications and reputations of our most accomplished faculty members."
Established in 2019 through an endowment by an anonymous donor, the Distingished Faculty Award is a one-time honor for faculty with internationally recognized bodies of scholarship or creative output. Distributed annually, the award was created under the tenure of former CLASS dean Antonio D. Tillis. The Distinguished Faculty Award winners for 2023 are:
"I'm honored to receive this award," Church said. "I attribute a large part of my scholarly success to the support I've received from many colleagues at UH and elsewhere in my discipline.  Political science is a great community to be part of."
The Lence Award honors faculty members from the major academic disciplines within the college: humanities and social sciences. They are given in memory of political science professor Ross M. Lence, one of the University of Houston's most inspiring teachers who retired in 2006.
"The winners of the Ross M. Lence Award for Teaching Excellence had simply stellar files in every category that one would imagine for outstanding teaching abilities. They both had magnificent comments from colleagues and students alike and concrete evidence to support the glowing comments," Linda Reed, associate professor in history and former Lence awardee, said. Reed served on the selection committee this year.
The Lence award winners for 2023 are:
Hopkins received the humanities award, and Alemán secured the social sciences honor. Both will receive a $3,000 bonus to continue research and pursue excellence in all aspects of teaching as a tribute to their hard work in the classroom.