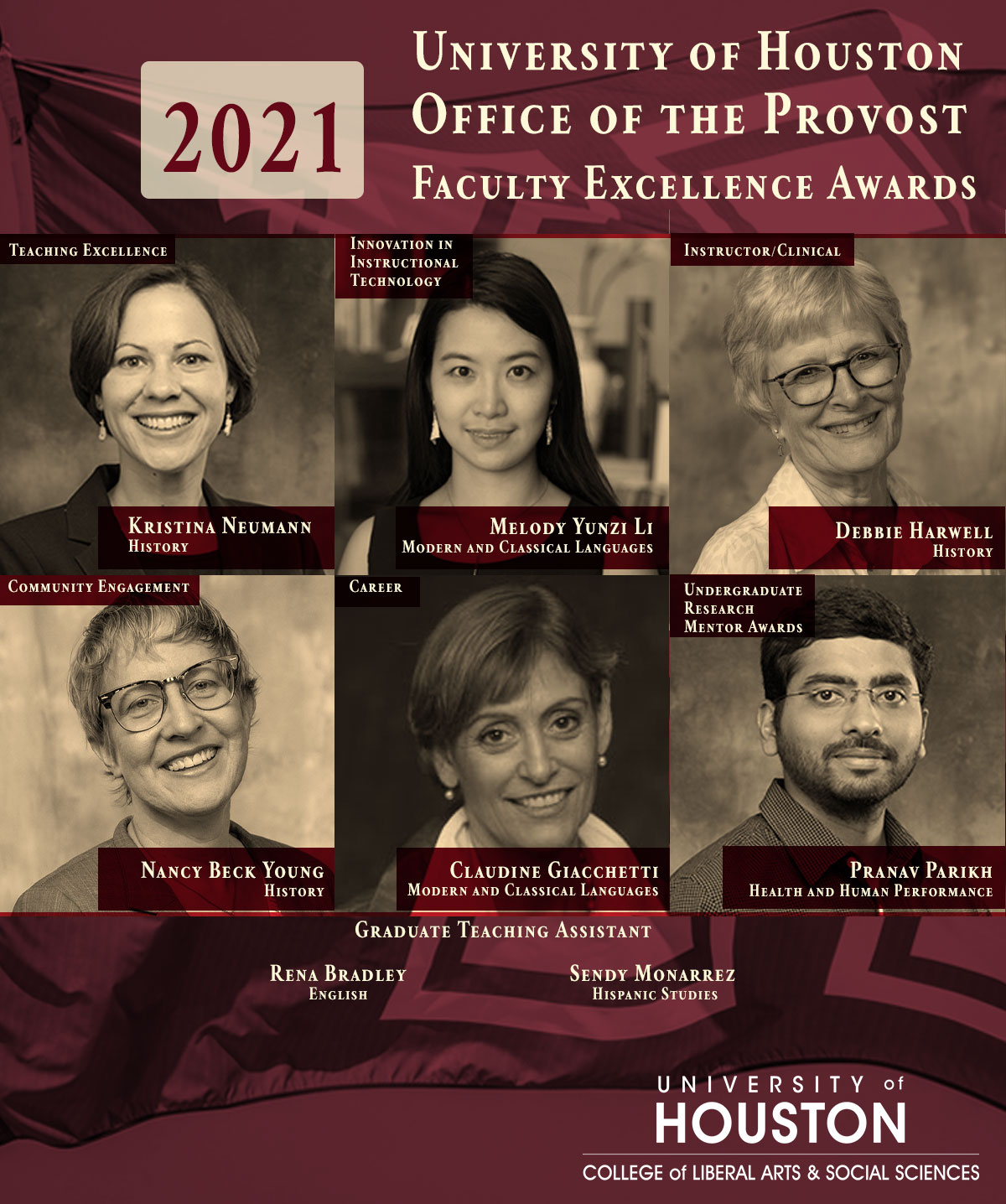 The University of Houston College of Liberal Arts and Social Sciences (CLASS) wishes to recognize and congratulate the six CLASS professors who have received the 2021 Office of the Provost Faculty Excellence Awards. These awards rank among the most prestigious in the entire University of Houston System, carrying cash prizes across various categories that highlight the unique skill sets and contributions of the recipients.
"Through inspirational teaching, critical research, and mentoring and advising students, these exceptional faculty have brought national recognition to the University of Houston," said Paula Myrick Short, senior vice president of academic affairs and provost.
The six CLASS faculty winners and their respective award categories are listed below:
Assistant Professor of History Kristina Neumann, Ph.D. (Teaching Excellence)
Assistant Professor of Chinese Melody Yunzi Li, Ph.D. (Innovation in Instructional Technology)
Instructional Assistant Professor of History Debbie Harwell, Ph.D. (Instructor/Clinical)
Professor of History Nancy Beck Young, Ph.D. (Community Engagement)
Professor of French Claudine Giacchetti, Ph.D. (Faculty Career Award)
Assistant Professor of Health and Human Performance Pranav Parikh, Ph.D. (Undergraduate Research Mentor Award)
"I thank Provost Myrick Short and congratulate each winning CLASS faculty member for these prestigious honors," said Daniel P. O'Connor, Ph.D., interim dean of CLASS. "The quantity and variety of Faculty Excellence Awards CLASS received this year speak to the diverse contributions of our professors and the different ways we have made an impact on the University community."
The award recipients will be honored during the virtual 2021 Faculty Excellence Awards celebration on May 7, 2021.