World-renowned author and activist Ngugi wa Thiong'o to speak Nov. 11 and 12
Kenyan novelist and playwright famous for call to African writers to abandon colonial languages, comes to campus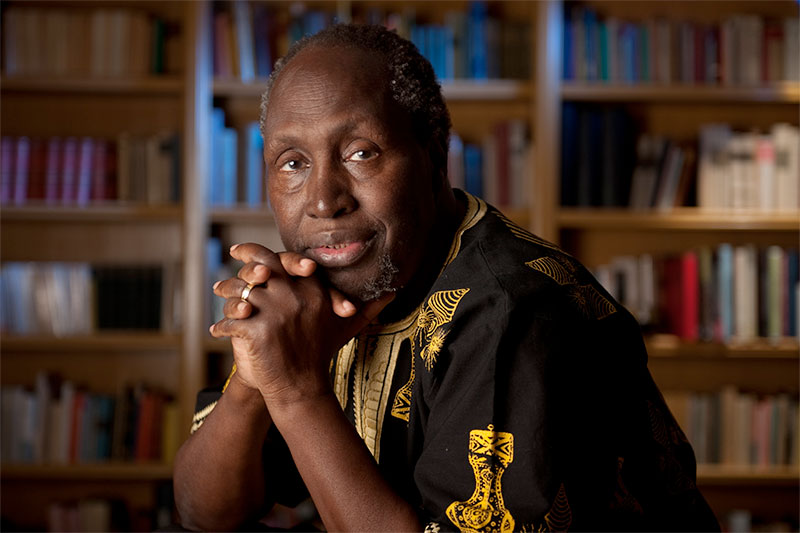 Ngugi wa Thiong'o, one of the world's most celebrated authors, as well as one of its most outspoken literary and social justice activists, will speak on the UH campus November 11 and 12. His visit is hosted by the Departments of English, History and Modern and Classical Languages.
A novelist, essayist, playwright, journalist, editor, educator and activist, Ngugi wa Thiong'o will participate in a discussion on Tuesday, Nov. 11 at 4 p.m. in the Honors College Commons moderated by English Associate Professor Hosam Aboul-Ela, an expert in postcolonial literature.
On Wednesday, Nov. 12 at 5:30 p.m. in the Honors College Commons, he will read from his works as part of the Poetry and Prose Series with Peter Kimani, a Ph.D. candidate in creative writing and former columnist and senior editor in Kenya's national press. The Honors College Commons is on the second floor of the M.D. Anderson Library.
Ngugi wa Thiong'o was born in Kenya in 1938 and baptized as James Ngugi when his country was still a British colony. During his adolescence, the Mau Mau movement pushed for Kenya's independence from British rule and some of his family members were active in the rebellion.
Ngugi started his writing career around the time Kenya gained its independence from Britain in 1963. His first novel was published in 1964, making it the first novel in English to be published by an East African writer.
In 1977, he legally changed his name from James Ngugi to Ngugi wa Thiong'o after years of publicly renouncing English as the language of the oppressors in his nation and began writing all of his fiction in Gikuyu, the native language of his mother.
For decades, he's argued that African writers must abandon English, French and other colonial languages in favor of the native African languages of their ancestors and monolingual relatives. He also advocates for literature written in native African languages to be translated directly into other African tongues without first being translated into English
It was also in 1977 that he was imprisoned without charges filed after the production of his play Ngaahika Ndeenda (I Will Marry When I Want) was performed. The Kenyan dictator in power at the time found intolerable the play's criticism of the inequalities and injustices of Kenyan society. Amnesty International named Ngugi a Prisoner of Conscience and an international campaign secured his release a year later.
He has lived in exile ever since except for a brief return to Kenya in 2004. He and his wife were brutally attacked and forced to escape back into exile.
A Distinguished Professor of English and Comparative Literature at the University of California, Irvine, Ngugi has been awarded honorary degrees from around the globe and nominated for the Nobel Prize in Literature.
Ngugi's novels include A Grain of Wheat, Petals of Blood, and Wizard of the Crow. His memoirs and autobiographies include Detained: A Writer's Prison Diary, Dreams in a Time of War and In the House of the Interpreter – a finalist for the National Book Critics Circle Award.
His volumes of critical essays include Decolonizing the Mind, Barrel of a Pen: Resistance to Repression in Neocolonial Kenya, Globalectics: Theory and the Politics of Knowing and In the Name of My Mother: Reflections on Writers and Empire.
- By Shannon Buggs
Related Links: