Major gifts advance the India Studies Program
Alumnus, community supporters give $200,000 plus to advance program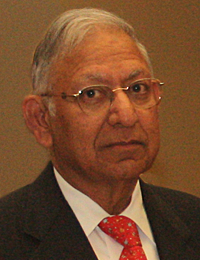 Dr. Durga Agrawal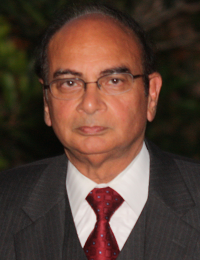 Dr. Arun Verma
As the world's largest democracy and fourth largest economy, India impacts the globe culturally, politically and financially. Knowing what's happening in India and why is essential to success in the global marketplace. To ensure that University of Houston students have an opportunity to study India, some generous donors have provided financial support to the nascent India Studies Program in the College of Liberal Arts and Social Sciences.
Alumnus Dr. Durga Agrawal, president and CEO of Piping Technology & Products, Inc., and his wife, Sushila, recently made a $100,000 gift to the India Studies Program, which was launched in 2011 and approved as a minor in 2012.
"UH has a very diverse group of students; in particular, there is a significant Indian student population," said Dr. Agrawal. "I couldn't think of a better place than the University of Houston to be a leader in India Studies."
"I hope that by learning about the immensely diversified contributions that have come from India, especially in math, science, and history, the students will be motivated to seek even higher education and make their own significant contributions to the world," said Dr. Agrawal. "I would like to see the program grow in terms of expanded research in the areas of ancient culture, history, civilization, and scientific methods. As more program classes are offered, student interest expands as well."
The Agrawals' gift is funding the India Studies Program's first postdoctoral fellowship. Dr. Jon Keune was selected as the first fellow after an extensive search conducted by Dr. Lois Zamora, chair of the Department of Comparative Cultural Studies, and Anjali Kanojia, director of the India Studies Program.
Dr. Keune is scheduled to begin his new role this month. He will teach courses within the India Studies program, conduct research, and complete his book manuscript.
Prior to accepting the position, Dr. Keune was a postdoctoral fellow at the Centre for Modern Indian Studies at the University of Göttingen in Germany. He earned his doctorate degree from Columbia University in New York.
In addition to the Agrawals' donation, Dr. Arun Verma, CEO of Nova Asset Management, Inc., and his wife, Vinni, have committed $100,000 to undergraduate student scholarships and overall program support.
"Compared to other local schools, UH is more diversified and has shown more enthusiasm in developing a world class India Studies Program," said Dr. Verma. "The expectation is that the students will increase their understanding of the complex Indian culture, its rich heritage, political system, economy, and core values for their personal and spiritual growth. In addition, students will be able to apply this knowledge in their future business and leadership roles."
Two additional families, Dr. Rahul Nath and his wife, Usha, and Mr. Bal Sareen, also donated substantial funds for curriculum support of the India Studies program.
India Studies Program
Department: Comparative Cultural Studies
Department Chair: Dr. Lois Parkinson Zamora
India Studies Program Assistant Director:
Dr. Anjali Kanojia
India Studies Postdoctoral Fellow: Dr. Jon Keune
Fall 2013 Courses:
(course descriptions)
Beginning Hindi I (HIND 1501)
Intro to Hinduism (WID) (RELS 2340)
Anthropology of Women (ANTH 3347)
Sociology of Religion in India (SOC 3397)
South Asia since 1600 (HIST 2363/CCS2396/RELS 2396)
Art of India (ARTH 3394)
Postcolonial Literature and Theory (ENGL 3365)
Introduction to the Government and Politics of India (POLS 3323)
Agriculture and Agricultural Biotechnology (in India) (ECON 4389)
Introduction to Asian American Studies (CUST 2300)
Asian American Cultures (CUST 4300)
"India is a major player on the world's stage in many ways," said Dr. Zamora. "The support we are receiving from donors will help us to educate students about India…and not just students of Indian heritage, but also U.S. students who are going to be in the global workplace."
One of the first students to enroll in the India Studies minor was CLASS senior Lesa Montague.
"When I learned that UH was going to be offering an India Studies minor, I decided to pursue it," said Montague. "There is so much history in India, and that history is still being practiced today. The global power shift to Asia makes studying India very interesting."
Although India Studies did not become an official minor within CLASS until 2012, there have been Hindi courses available for students to take for the past five years. Today, the India Studies Program offers classes about Indian culture, economics, literature, art, and history.
"Indian values and ideals are in sync with those of the U.S.," said Dr. Verma. "Both are democratic countries, giving the basic rights of worship, free speech, etc. to its citizens. India is also on its way to becoming an economic power. The relations between India and the U.S. are on the increase. It is of great importance that two countries sharing strong similar values understand each other. It is hoped that this India Studies program will become a link for this part of the U.S."
- By Monica Byars