Sandra Gin Wins Emmy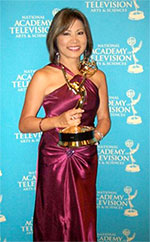 The 37th Annual Daytime Emmy® Awards took place over the weekend and CLASS faculty member Sandra Gin was among the honorees.
Gin received her third Daytime Emmy as a producer for the now cancelled courtroom show, Cristina's Court. First airing in 2006, the series has won the Emmy for Outstanding Courtroom Program for the past three years.
Gin is a former anchor for KHOU Channel 11, and has been a producer for two nationally-syndicated Fox courtroom shows, Judge Alex (2005-07) and Cristina's Court (2007-09). A 30-year veteran of television both on camera and behind the scenes, she has received 13 Emmy awards and nominations and numerous national and state journalism honors.
Gin is an Adjunct Professor with the Jack J. Valenti School of Communication at the University of Houston and teaches Broadcast Writing at Houston Community College.
Learn more about Sandra Gin and her career in broadcasting at SandraGin.com
(Sources: Ultimate Fort Bend and The Academy of Television Art & Sciences)