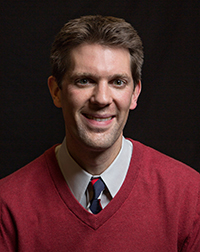 Temple Northup, Ph.D.
Communications

Director, Associate Professor
Office: Communications Bldg, Room #108
Phone: 713-743-1697
Email: temple@uh.edu
Temple Northup is the Director of the Jack J. Valenti School of Communication and the Co-Director of the Gulf Coast Food Project—an interdisciplinary center on campus that promotes the study of food in the Texas Gulf Coast region. Dr. Northup's research seeks to understand how the media can influence our attitudes and behaviors and has been published in a wide array of respected journals, including Media Psychology and Applied Cognitive Psychology.
Popular with the media, he is a regular guest on "Houston Matters" and his research has been featured everywhere from the Los Angeles Times to USA Today. Temple has also made an in-studio appearance in New York City as a guest on the nationally televised Fox & Friends. Before coming to UH, Dr. Northup worked in Los Angeles as a sitcom writer and worked on over 180 episodes of prime time network television. And he lived to tell the story.
Critical Studies Courses
COMM 3370: History of Cinema
Production, Art, and Design Courses
COMM 4328: Broadcast/Film Dramatic Writing
COMM 4383: Documentary Filmmaking