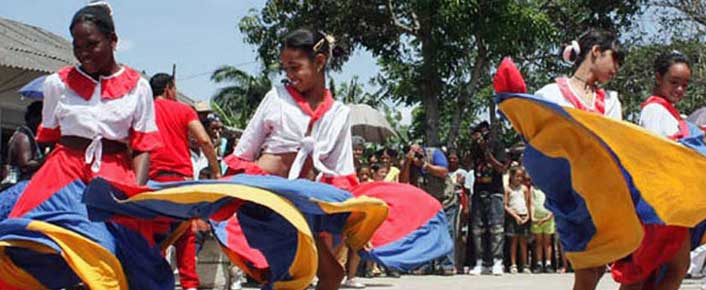 Suggested Courses - Spring 2016
A minor in Latin American Studies (LAST) requires a minimum of 18 semester hours: six hours of required coursework (LAST 3300, plus either a 3000-level Spanish-language course or a course covering Mexican-American and/or Latino-related topics); three 3000- or 4000-level courses in at least two different department or programs; and either an independent study research or internship project, or an additional 4000-level course. 12 of the 18 hours must be in residence, including 6 semester hours at the 3000- or 4000-level. A minimum 2.0 grade point average for all courses applied to the minor is required.
LAST 3300 is an interdisciplinary Distance Ed course providng an introduction to the history, cultures, and languages of Latin America, including its indigenous past, religious traditions, linguistic realities, economic development, gender relations, political dynamics, popular culture, and social forces.
Study Abroad in Latin America
Please visit http://www.uh.edu/learningabroad/learning-abroad-programs/ for UH-approved list of study abroad programs in Latin America.
Required Hours
6 hours from the following
LAST 3300 Latin America: Hemispheric and Global Perspectives (REQUIRED)
MAS 3340 Development of the Mexican American Urban Communities 
MAS 3341 Mexican American Experience Through Film
MAS 3342 Mexican Immigration
MAS 3395 Selected Topics in Mexican American Studies
SPAN 3301 Oral Communication in Spanish
SPAN 3302 Written Communication in Spanish
SPAN 3303 Spanish Phonetics
SPAN 3306: Intro to the Study of Span Lang
SPAN 3307 Public Speaking in Spanish
SPAN 3308 Written Communication for Hispanic Heritage Learners
SPAN 3341 The Language of Business and Trade (Sp)
SPAN 3342 The Business Environment in the Hispanic World (Sp)
SPAN 3345 Hispanic Folklore of the Southwest
SPAN 3350 Women in Hispanic Literature
SPAN 3373 Spanish Culture and Civilization
SPAN 3374 Spanish-American Culture and Civilization
SPAN 3384 Introduction to Hispanic Literature
SPAN 4311 Survey of Spanish Literature to 1700
SPAN 4312 Survey of Spanish Literature since 1700 to Present
SPAN 4321 Survey of Spanish-American Literature I (Sp)
SPAN 4322 Survey of Spanish-American Literature II (Sp)
SPAN 4337 Contemporary Spanish-American Literature (Sp)
SPAN 4339 Spanish-American Short Story (Sp)
SPAN 4341 Advanced Language of Business and Trade (Sp)
SPAN 4356 Spanish Grammar for Teachers
SPAN 4365 Spanish-English Contrastive Structures
SPAN 4366 
SPAN 4368 Mexican Literature in the Twentieth Century (Sp)
SPAN 4369 Contemporary Spanish Literature
9 hours from the following
ANTH 3324 Peoples and Cultures of Central America
ANTH 3374 Inca Archaeology
ANTH 3377 Archaeology of Central America
ANTH 4372 Maya Archaeology
ANTH 4373 Archaeology of the Aztecs and Their Neighbors
ARTH 3312 Precolumbian Art
ARTH 3314 Latin American Art
ECON 3351 Economics of Development*
ENGL 3322 Magical Realism
ENGL 4394 (HIST 4366) Latin American History through the Novel
HIST 3369 Colonial Mexico
HIST 3371 The U.S. and Latin America
HIST 3374 History of Brazil
HIST 3375 CIA in the Third World
HIST 3376 Caribbean History
HIST 3396 Selected Topics in Latin American History
HIST 4365 Women in Latin America
HIST 4369 Modern Mexico, 1810 to Present
HIST 4370 The U.S. and Mexico
HIST 4371 Latin American History through Film
HIST 4372 African Experience in Latin America and the Caribbean
HIST 4375 Religions in Modern Latin America
HIST 4376 Revolutionary Cuba
HIST 4377 Blacks in Latin America and Caribbean in the 20th Century
HIST 4396 Selected Topics in Latin American History
INTB 3350 Introduction to International Business*
MUSI 3303 Popular Music of the Americas since 1840
POLS 3322 Introduction to Latin American Politics
POLS 4328 Party Politics in Latin America
SOC 3326 Immigration in US Society
SPAN 3341 The Language of Business and Trade (Sp)
SPAN 3342 The Business Environment in the Hispanic World (Sp)
SPAN 3374 Spanish-American Culture and Civilization
SPAN 4321 Survey of Spanish-American Literature I (Sp)
SPAN 4322 Survey of Spanish-American Literature II (Sp)
SPAN 4337 Contemporary Spanish-American Literature (Sp)
SPAN 4339 Spanish-American Short Story (Sp)
SPAN 4341 Advanced Language of Business and Trade (Sp)
SPAN 4368 Mexican Literature in the Twentieth Century (Sp)
SPAN 4388 Images of Women in Spanish-American Film and Literature
SPAN 4396 Topics in Spanish Language and Linguistics (Sp)
WCL 3366 Latin American and Latino Film Studies
WCL 3392 Introduction to Latin American Cultural Studies
WCL 4362 Seminar in Latin American and Latino Literatures
WCL 4380 Jewish Expulsions and Aftermath in Spain, 1492 and After
WCL 4381 Seminar in Latin American and Latino Cultural Studies
WCL 4394 Sexuality in Latino Culture
*These courses can be included only if they cover Latin American topics. Students should check with program advisor(s) to be sure all courses meet program requirements
3 hours from the following
ANTH 4398
ARTH 4398
ECON 4398
ENGL 4398
HIST 4373
HIST 4398
LAST 4398
MAS 4398
MCL 4398
MUSI 4398
POLS 4398
SOC 4398
SPAN 4398