Super Four Experience Training Events and Tours
HHP's SUPER FOUR Experience is designed to provide an opportunity for University of Houston students to earn experience and training by partnering with the 2016 Men's Basketball Final Four Host Committee and the Houston Super Bowl Host Committee. Students are working with these committees to gain experience in the areas of event planning, event management, sport marketing and communication, budgeting, project management, facility management and guest services, and sport governance, among others. Here are some media reports and images of HHP students during their training sessions and promotional tours.
Houston Chronicle
The Houston Chronicle featured a training session from the Super Four Experience held at the Houstonian Hotel, below is a excerpt from the Chronicle:
The students, enrolled in a two-year course jointly offered by UH's sports administration and hotel and hospitality management departments, are in the final weeks of high-end service training in preparation to guide esteemed guests through the city during the 10-day lead-up to the game, which will be played at NRG Stadium on Feb. 5. For weeks, they have been studying the behind-the-scenes efforts needed to execute one of the most highly anticipated events in the world.

"We sell an experience, an intangible good," said David Walsh, an assistant professor in UH's department of health and human performance. "You walk away with memories."
Read the entire article on the Houston Chronicle website - Cached version of the article
Super Four Hospitality Service training
Below are images of UH students and faculty at the Super Four Hospitality Service training held at the Four Seasons Houston on Nov 7th 2016.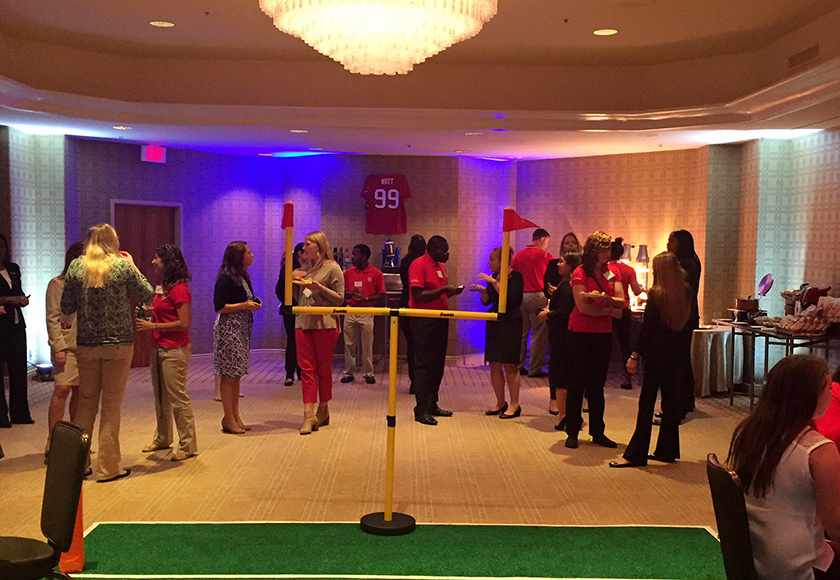 Kingwood Touchdown Tour 
The Touchdown Tour is the Houston Super Bowl Host Committee's traveling celebration of football as they travel all over Houston throughout the fall, raising awareness and excitement in the community. Below are images of Super Four students at Kingwood Highschool.