Images from the Super Four Press Conference
The Super Four Internship Experience was officially launched at a press conference on Sept. 8th 2015 by the Houston Super Bowl Host Committee, the University of Houston and the Houston NCAA Final Four Local Organizing Committee. Below are some images from the press conference.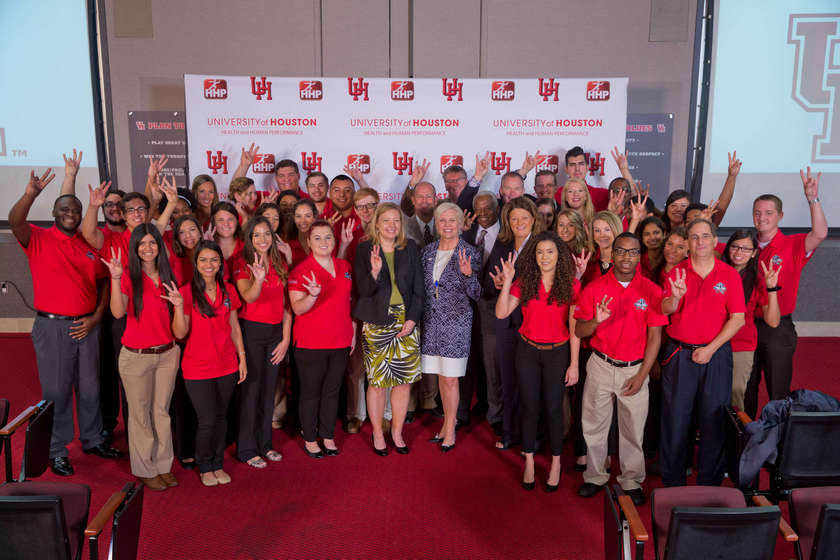 UH students with fauclty and dignitaries - scroll down for more images (Image courtesy: Richard J. Carson)
The project-based internship program will involve students working closely with both the Final Four and Houston Super Bowl Host Committees and staff in the areas of event planning, event management, sport marketing and communication, budgeting, project management, facility management and guest services, and sport governance, among others.
Learn more about the Super Four Internship Experience Program
Images From Super Four Press Conference Sept. 8th 2015
HHP students with UH Provost Dr. Paula Short

Hotel Management students smile for the camera

SVC for Academic Affairs, UH System, and SVP for Academic Affairs and Provost, Dr. Paula Short, addressing the press conference

Dr. Paula Short addressing the press conference

Mr. Hunter Yurachek, Vice President for Intercollegiate Athletics, UH addressing the press

Mr. Tony Chase, Chairman, Houston NCAA Final Four Organizing Committee at the press meet

Ms. Sallie Sargent, President & CEO, Houston Super Bowl Host Committee addressing the press

Ms. Sallie Sargent, President & CEO, Houston Super Bowl Host Committee addressing the press

Mr. Doug Hall, President & CEO, Houston NCAA Final Four Organizing Committee

Ms. JoAn Scott, Managing Director of Men's Basketball Championships, NCAA

Dr. Charles Layne, Department Chair, Health and Human Performance, UH addressing the press conference

Dr. Mary Dawson, Interim Associate Dean of Academic Programs, Conrad N. Hilton College of Hotel and Restaurant Management, UH

Mr. Shane Nebeker, Senior, Health and Human Performance, UH

Ms. Sara Varano, Master's Candidate, Conrad N. Hilton College of Hotel and Restaurant Management, UH

UH students with faculty and dignitaries

UH students with faculty and dignitaries

HHP chair Dr. Charles Layne with UH SVC, SVP and Provost Dr. Paula Short and Interim Associate Provost Dr. Mark Clarke

HHP and Hotel Management students smile for the camera

HHP chair Dr. Charles Layne with UH Senior Media Relations Specialist Ms. Marisa Ramirez

Mr. Hunter Yurachek with Dr. Layne

HHP students with Drs. Layne and Walsh

HHP students with Provost Dr. Short (Image courtesy: Richard J. Carson)

HHP students with Drs. Layne and Walsh (Image courtesy: Richard J. Carson)