Great Strides - HHP Sponsors 2015 Cystic Fibrosis Walk.
The Department of Health and Human Performance sponsored the annual "Great Strides - Taking Steps to Cure Cystic Fibrosis" walk on Saturday May 9th 2015 at the UH main campus. The Great Strides 5k walks raise funds for the Cystic Fibrosis Foundation which has invested hundreds of millions of dollars to support the development of new CF drugs and therapies. More than 125,000 people participate in the walks, held at nearly 600 locations across the country.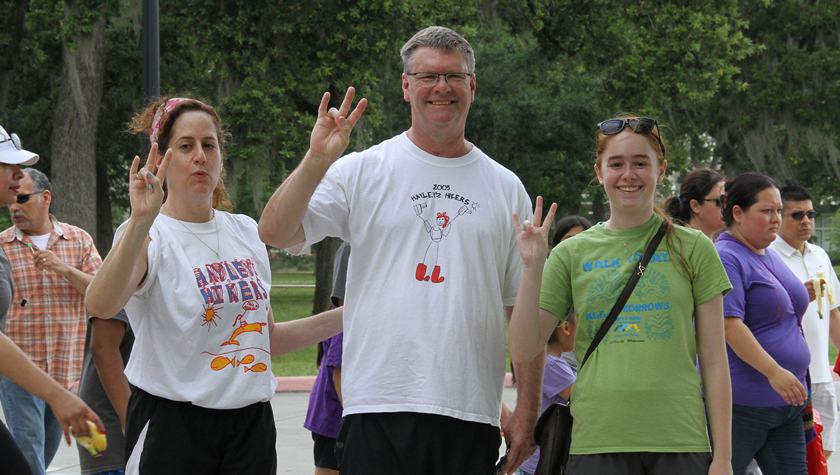 HHP Chair Dr. Layne with his family at Great Strides 2015

Hundreds of people participated in the Great Strides walk at UH and raised $421,441 to help support life-saving research, quality care, and education programs.
Images from Great Strides 2015
Team "Natalie's Stand" before the walk - having raised $60,870 Natalie's Stand was the top fundraiser in the houston area

Great Strides 2015

Drs. Lisa and Charles Layne smile for the camera

Making memories at the CFF walk

Shaping balloons and making smiles

Shaping balloons and making smiles

Balloon headgear at the CFF walk

Great Strides 2015

Warming up for the walk

Great Strides 2015

Great Strides 2015

Drs. Lisa and Charles Layne at the CFF walk

Haley's Hikers smile for the camera

Great Strides 2015

Getting warmed up for the walk

Getting warmed up for the walk

Getting warmed up for the walk

The mascot gets a ride on a hot day

And we are off..

Great Strides 2015

Team Aaliyah pauses for a picture

Enthusiastic supporter

Taking a break from cheerleading

"Love One Another" The enternal flame of service on the UH campus

Great Strides 2015

Great Strides 2015

Great Strides 2015

Great Strides 2015

Great Strides 2015

Great Strides 2015

Great Strides 2015

Great Strides 2015

Great Strides 2015

Getting a ride

Team Just Breathe

Gracies Gliders

Gracies Gliders

Team Just Breathe

Great Strides 2015

Amandas Army

Great Strides 2015

Gracies Gliders

Great Strides 2015

Time for a break

Great Strides 2015

Natalie's Stand at the finish line

Great Strides 2015

Great Strides 2015

Great Strides 2015

Great Strides 2015

Great Strides 2015

Great Strides 2015

At the finish line - A job well done

Mickis Marvels

Great Strides 2015

Great Strides 2015

Amandas Army at the finish line

Great Strides 2015

A smile for the camera

Amandas Army at the finish line

Amandas Army at the finish line

Amandas Army at the finish line

Great Strides 2015

Amandas Army at the finish line

Team Tiff

Team Breathe Strong at the finish line

Reid's Crew bolts past the finish line

Great Strides 2015

Great Strides 2015

Great Strides 2015

Great Strides 2015

Great Strides 2015

Great Strides 2015

Haley's Hikers at the finish line

Great Strides 2015

Go Coogs!! Dr. Layne at the Finish Line

Great Strides 2015

Great Strides 2015

Great Strides 2015

The Gavinators

The Gavinators

Great Strides 2015

Great Strides 2015

Great Strides 2015

Great Strides 2015

Great Strides 2015

Great Strides 2015

Great Strides 2015

Great Strides 2015

Great Strides 2015

Great Strides 2015

Team Landon makes it past the finish line

Great Strides 2015

Gracies Gliders take a well deserved break