HHP Student Featured in CLASS News
HHP student Crystal Esquibel's story was recently featured in CLASS News, in a segment titled "Undergraduate Student Success Stories" The article detailed Ms. Esquibel's experiences in an Applied Nutrition Policy course that required her to participate in a class research project called the Food Stamp Challenge. The project challenges students in the class to survive on the typical food stamp budget of $25 a week.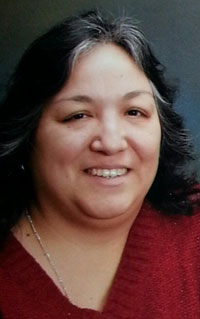 Ms. Crystal Esquibel
Ms. Esquibel experience is particularly relevant because she participated in the food stamps program as a young mother almost 20 years ago, now a grandmother she will graduate on May 9, 2014 with a bachelor's degree in kinesiology – exercise science with a minor in nutrition.
Below is a excerpt from the article:
"Crystal has been a great asset to the course," said Dr. Daphne Hernandez who taught the course. "She knows first-hand how economic hardship can be a barrier to education and health."

Dr. Hernandez set up the project so that each student had to purchase a week's worth of food with only the weekly amount budgeted for food stamp recipients - $25. Each student received a gift card donated by the Texas-based H.E.B. supermarket chain.
Read the entire article on the College of Liberal Arts and Sciences website
Check out media coverage of the Food Stamp Project in Dr. Hernandez's class