Houston Chronicle: HHP Faculty Caryn Honig to Run in the 2014 Boston Marathon
HHP faculty Ms. Caryn Honig will take part in the 2014 Boston Marathon on April 21st. The Houston Chronicle featured Ms. Honig in an article titled "Houston runners show solidarity for Boston Marathon"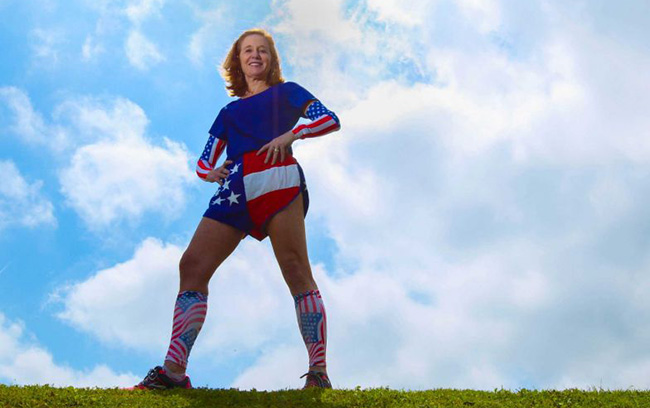 Ms. Caryn Honig wearing her patriotic running gear (Photo courtesy: The Houston Chronicle)
A life long marathoner, this will be Caryn's 35th and her most meaningful marathon. Writing in her monthly newsletter, Caryn spoke about the upcoming race: "I wasn't going to run it again but after last year's tragic bombings, I feel like I need to do it one more time. I need to help prove that we cannot let terrorists succeed in destroying our spirit. They will not stop us from coming together. They will not stop us from doing the things we love. They will certainly not stop us from running!"
She continued "Many people have asked me if I am scared to run this year. I cannot lie. Yes, I am a little bit scared. But more than being scared I am excited and determined to show that nobody can destroy the human spirit."
An excerpt from the Houston Chronicle:
So between juggling three jobs - her private practice, teaching at the University of Houston and counseling employees at Texas Children's Hospital - and earning a doctorate, she trained hard. She qualified for Boston at South Dakota's Leading Ladies Marathon in August.

Honig will run in patriotic regalia, including arm and leg warmers with a U.S. flag print. Yet she expects a bittersweet experience at her 35th marathon.

"I think there will be ups and downs more so than any other marathon I've done," she said.