HHP's Research Symposium 2014
.

The department of Health and Human Performance held its annual Research Symposium on Oct 21st and 22nd, 2014 in the Rockwell Pavilion - M.D. Anderson Library at the University of Houston. About 800 audience members listened as more than 40 HHP graduate students and faculty presented their research, over two days, on a wide variety of topics, including obesity, physiology, epidemiology and sports marketing. The event also included a poster presentation session.
.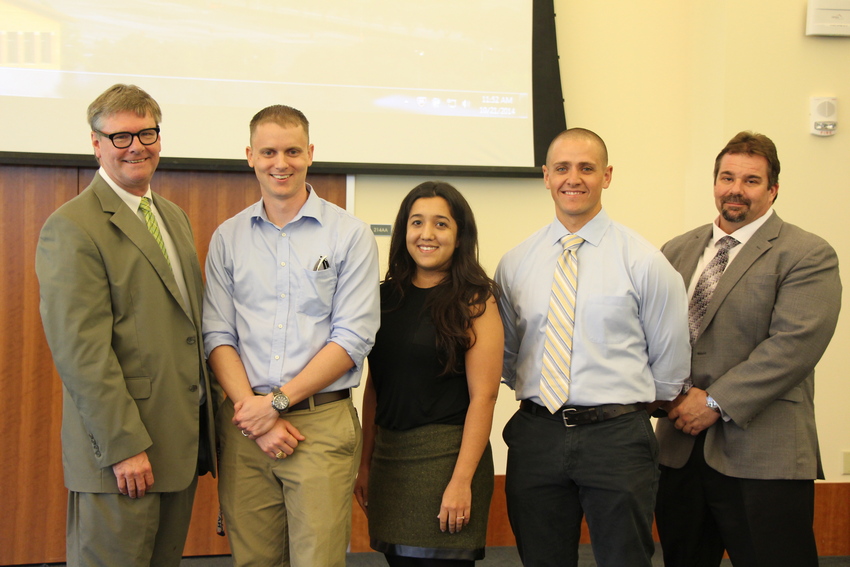 Dr. Layne and Dr. Lowder with the winners of the elevator speech contest in the center -
(L-R) David Temple, Nadia Agha and Nate Parker
(scroll down for more images)

HHP graduate students competed in the "elevator speech" contest during which students give a two minute informative and persuasive sales pitch to a panel of UH professors. The top three contestants receive funding to support their research. This years winners were Mr. David Temple, Ms. Nadia Agha and Mr. Nate Parker.
Click here for more information on each presenter and their research topic (pdf)
Images from HHP Research Symposium 2014
Dr. Lowder at the 2014 Research Symposium

Dr. Jong-Hee Kim presenting his research

Dr. Simpson presenting his research

Dr. Simpson presenting his research

Q and A session with the audience

Drs. Simpson and Spielmann smile for the camera

Students at the 2014 Research Symposium

Setting up the presentation

Hawley Kruz presenting her research

Hawley Kruz listens to a question from the audience

Nadia Agha during her presentation

Dr. Lowder adresses the audience

HHP Research Symposium 2014

Poster presentations at HHP's Research Symposium 2014

Drs. Layne and Simpson at Research Symposium 2014

Nadia Agha listens to a question from the audience

Nate Parker during the elevator speech contest

The audience at HHP Research Symposium 2014

The audience at HHP Research Symposium 2014

Dr. Layne smiles for the camera

Dr. Layne addresses the gathering

Nate Parker giving his elevator speech

The judges for the elevator speech contest smile for the camera

HHP students smile for the camera

Rakshatha Kabbaligere presenting her research

Nadia Agha delivering her elevator speech

David Temple delivering his elevator speech

HHP Research Symposium 2014

The poster presentation session

A smile for the camera - Todd Boute with Nadia Agha

The poster presentation session

Denny Dao explaining his poster

Parisa Abadi with her poster

Poster presenters giving a 90 sec overview of their posters

Ramon Sabillon talks about his research

Laura Record describes her poster

Parisa Abadi giving an overview of her poster

Dr. Pearson introduces the poster presenters

Shelly Temple giving an overview of her poster

Dr. Layne addressing the symposium

Drs. Hernandez and Pearson in the audience

Dr. Leasure, Associate Professor in Developmental Psychology and Director of The Behavioral Neuroscience Lab at UH addressing the gathering

Dr. Mary Ann Ottinger, Assos VC for Research for the UH system and Assoc VP for Research for UH adressing the gathering

Dr. Steven Craig, Professor, Department of Economics at UH shares his thoughts with the audience

Jessica Silva talking about her poster

Dr. Hernandez, Dr. Yellen and Mr. Boutte at the symposium

Dr. Lowder introducing the next presenter

Chelsea Fowler during her presentation

Lauren Hood presenting her research

The audience at the symposium

Lauren Hood answering audience questions

Dr. Don Lee presenting his research

Dr. Don Lee presenting his research

Dr. David Walsh during his presentation

Dr. David Walsh during his presentation

Lyle Babcock presenting his research

Lyle Babcock presenting his research

Priti Gupta during her presentation

Junyoung Hong presenting his research

Jonghae Lee presenting his research

Dr. Beom-Chan Lee presenting his research

Recep Ozdemir makes a point during his presentation

Amber Chelette presenting her research

Dr. Yoonjung Park during his presentation

Amber Chelette at the symposium

A smile for the camera - Amber Chelette, Dr. Beom-Chan Lee, Recep Ozdemir

Dr. Gorniak setting up her presentation

Dr. Gorniak setting up her presentation

Dr. Gorniak answering questions from the audience

Hao Meng presenting his research

Hao Meng presenting his research

Stefan Madansingh presenting his research wearing google glass

Stefan Madansingh presenting his research

Dr. Adam Thrasher during his presentation

Dr. Adam Thrasher during his presentation

Raul Amador presenting his research

Craig Workman presenting his research

Dr. Layne with Dr. Rebecca Lee

Dr. Ledoux presenting her research

Dr. Ledoux presenting her research

Nate Parker during his presentation

Dr. Laura Kabiri during her presentation

Dr. Melissa Markofski listens to a question from the audience

Dr. Dan O'Connor during his presentation

Allen Hallett presenting his research

Dr. Mitzi Laughlin presenting her research

Dr. Mitzi Laughlin presenting her research