Images from HHP Sponsored Graffiti Run 2014
A Graffiti Run, sponsored by The Department of Health and Human Performance was held at the UH main campus on Sunday, December 7th, 2014. Thousands of participants turned out on a beautiful day to complete a 5K run around the UH campus while being drenched in colors at stations along the way. Part of the proceeds from this event will benefit HHP's  undergraduate scholarship.
.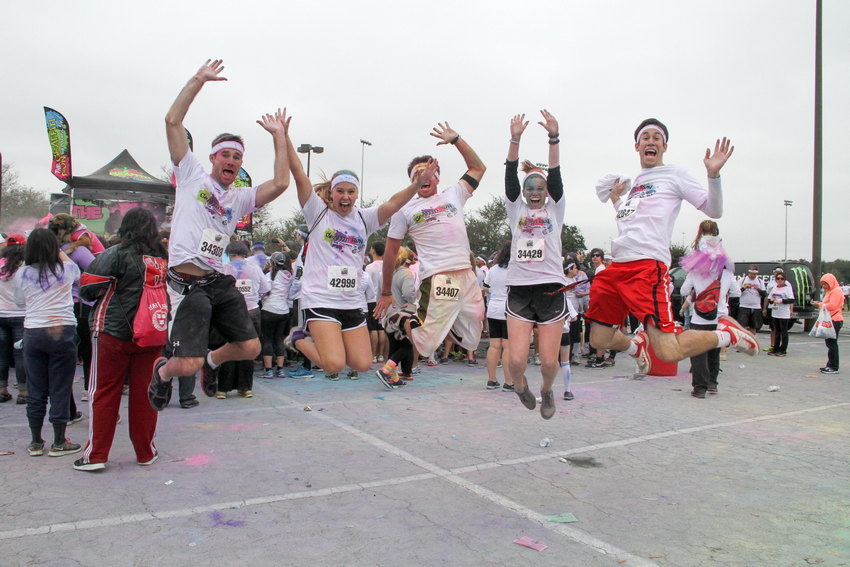 HHP students celebrate at the end of the Graffiti run (scroll down for more images)

This is the third year that HHP has sponsored a graffiti run to benefit its undergraduate scholarship fund.

More images from the 2014 Graffiti Run
Graffiti Run 2014

Getting ready for the run

HHP's Director of Admin & Academic Affairs Ms. Randi Betts with her family and friends before the start the run

Some color to begin the festivities

Graffiti Run 2014

HHP students before the run

Helping spread the color

Ms. Betts and Dr. Gorniak along with family and friends before the race begins

The race begins..

Graffiti Run 2014

Crossing the blues

Crossing the blues

A smile for the camera

Crossing the blues

Graffiti Run 2014

Participants make their way through the UH campus

At the reds

At the reds

At the reds

At the reds

Graffiti Run 2014

Graffiti Run 2014

Graffiti Run 2014

Graffiti Run 2014

Graffiti Run 2014

Graffiti Run 2014

Graffiti Run 2014

Graffiti Run 2014

Graffiti Run 2014

Graffiti Run 2014

In a cloud of colors

Graffiti Run 2014

Traversing the yellows

Traversing the yellows

Traversing the yellows

Traversing the Yellows

Traversing the Yellows

Traversing the Yellows

Go Coogs!! - Graffiti Run 2014

A big thumbs up - Graffiti Run 2014

Graffiti Run 2014

Getting a ride at the 2014 Graffiti Run

Graffiti Run 2014

Smiles for the camera

Smiles for the camera

Graffiti Run 2014

Graffiti Run 2014

A picture with Shasta

Graffiti Run 2014

At the reds

At the reds

At the reds

Graffiti Run 2014

Graffiti Run 2014

Graffiti Run 2014

Graffiti Run 2014

Graffiti Run 2014

Rolling with the blues

Rolling with the blues

Rolling with the blues

Rolling with the blues

Rolling with the blues

Graffiti Run 2014

Graffiti Run 2014

Graffiti Run 2014

A grand finale

Time for a selfie

Happy faces at the Graffiti Run

Loving the colors at the Graffiti Run

HHP students after the run

Graffiti Run 2014

Graffiti Run 2014 Images

Music and color at the end of the Graffiti Run

Graffiti Run 2014

Selfie time at the Graffiti Run

Graffiti Run 2014