HHP Faculty Dr. Daphne Hernandez Featured on ABC13.
HHP faculty Dr Daphne Hernandez was recently featured in an extended interview on ABC 13 KTRK Houston. Focusing on Dr Hernandez's research on food insecurity in the Hispanic community, the interview, by KTRK's Eric Barajas was broadcast on Viva Houston, a weekly segment dedicated to the issues facing the Hispanic community in Houston.

Click on the image below to watch the interview:



:

In the broad ranging interview, Dr Hernandez described the research being carried out at HHP on food insecurities, child nutrition, the relationship between mental health and food insecurity, impact of food insecurities on obesity in later life and the disproportional impact of these issues on Hispanic households.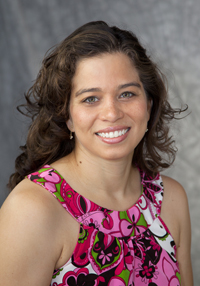 Dr. Daphne Hernandez
Dr. Hernandez was recently in the news for her research on the benefits of a father's involvement with his children, his role in the family and its effects on his own mental health

Watch the interview on the  ABC13 webpage

Visit the Texas Obesity Research Center at HHP

Check out Dr. Daphne Hernandez's research profile and publications