Meet HHP's Exchange Students
The Health and Human Performance department recently hosted a luncheon for students and sponsors from HHP's student exchange programme with Edinburgh Napier University in Edinburgh, Scotland. Past and current exchange students were present at the luncheon.
For the Fall 2013 semester, HHP welcomes Rachel Laws and Lain Sutherland, students from Edinburgh Napier University. HHP students Ryan Afley and Jonathan Morales will leave in a few days for the fall semester at Edinburgh Napier University. This is the second batch of HHP students going to Scotland, HHP students Christiana Gentry and Brett Siders attended Edinburgh Napier University in Fall 2012. HHP students are funded by a grant from Ms. Nora and Mr. John McGowan on behalf of the The D. Lynd and Terri K. McGowan Foundation.
Below are some images from the luncheon: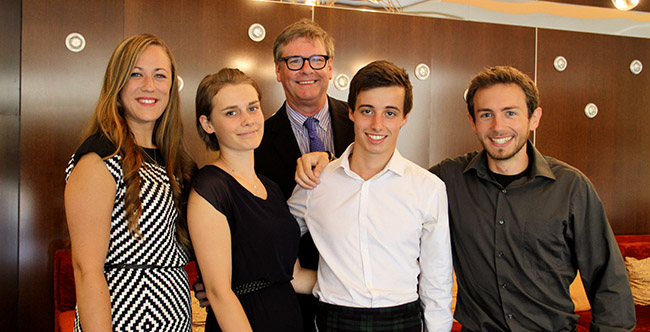 Dr. Layne with Scottish students Ms. Rachel Laws and Mr. Lain Sutherland in the center,
flanked by Fall 2012 HHP exchange students to Napier - Ms. Christiana Gentry & Mr. Brett Siders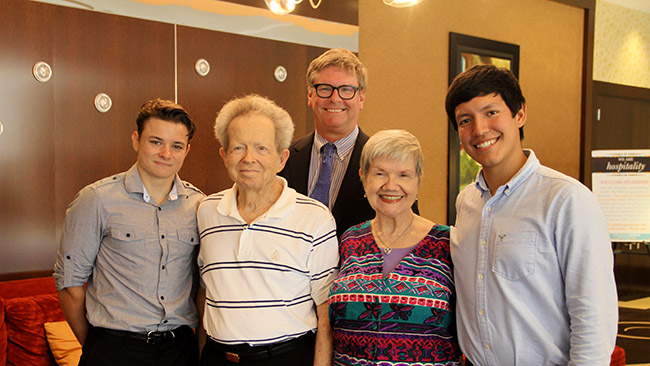 Mr. Ryan Afley, Mr. John McGowan, Dr. Charles Layne, Ms. Nora McGowan and Mr. Jonathan Morales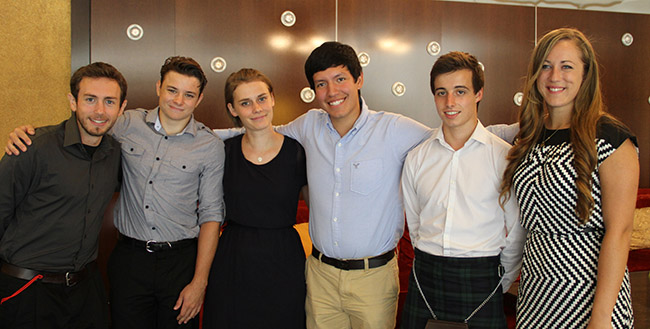 Current and former exchange students
From left: Mr. Brett Siders, Mr. Ryan Afley, Ms. Rachel Laws, Mr. Jonathan Morales, Mr. Lain Sutherland and Ms. Christiana Gentry