HHP Announces New Scholarship for Space Life Sciences.
The Health and Human Performance department today announced a new scholarship for doctoral students studying in the area of space life sciences.
This scholarship provides $20,000 per year of funding to specialize in the academic area of space life sciences while obtaining a PhD in Kinesiology.
For additional information on the new scholarship and to apply please contact HHP's graduate counselor Mr. Todd Boutte
Doctoral Curriculum in Space Life Sciences at HHP
The space life sciences curriculum at UH is a unique joint venture between the Department of Health and Human Performance at UH and the NASA/Johnson Space Center. HHP and NASA share a special relationship; many of our faculty are drawn from the ranks of former NASA scientists who currently maintain research relationships with NASA.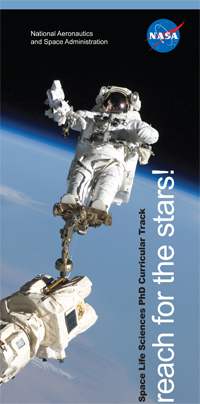 Click on the image above to download a brochure
for the Space Life Sciences program at HHP (pdf)
The program is designed to prepare doctoral students seeking careers in supporting the space program through clinical and research expertise in federal, state, and private space agencies, industry, universities, and related occupational health settings.