HHP Has a New Scholarship!
HHP is proud to announce the Health and Human Performance Undergraduate Student Scholarship Endowment in the College of Liberal Arts and Social Sciences.
The HHP faculty and staff established the scholarship with their generous donations to ultimately provide a scholarship to an HHP undergraduate student. The intent is that faculty, staff and HHP students will work together in a partnership to fully fund the scholarship so that money can be distributed as soon as possible to a deserving student.
In exchange for a $1 donation to the scholarship, students will receive the UH/HHP decal shown here!



HHP Decal
HHP Department Chair, Dr. Charles Layne said, "It is a great honor to be associated with a group of faculty who care enough about student success that they are willing to give their own money to establish the scholarship. We hope by involving the students in the funding of the scholarship through their donations we can begin to create a 'culture of giving' so that students can begin to understand how important their contribution to the success of the department and its future students really is."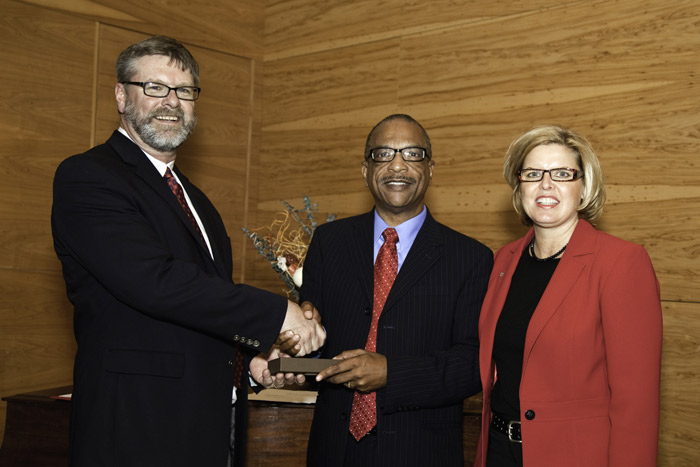 Dr. Charles Layne, HHP chair; Dr. John Roberts, CLASS dean; and Margo Wolanin, Sr. development officer. Dr. Roberts presents Dr. Layne with a pen to sign the HHP Undergraduate Scholarship documents.
UH Sr. Development Officer Margo Wolanin said, "I think the most important thing about this endowment is that it is created by Health and Human Performance, for Health and Human Performance undergrad students. It's an exciting time to be in HHP with the guidance of the leadership of individuals who contribute to this fund and give future students the opportunity to earn a scholarship."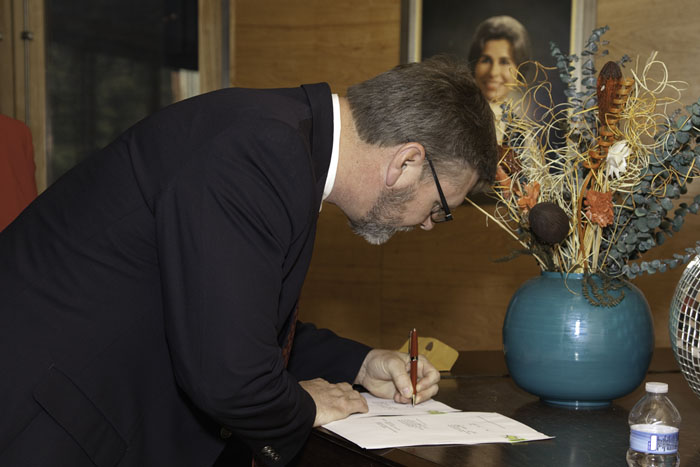 Making it official - Dr. Charles Layne signing the scholarship documents
For those interested in making a donation to the scholarship and obtaining an HHP window decal, please see Amanda Butcher in GAR 104.