Houston Chronicle Features Dr. Tracey Ledoux's Research on Obesity.
HHP faculty Dr. Tracey Ledoux's research into food cravings was featured in a front page article in the Houston Chronicle's city section on Friday Feb 24th 2012. The article described Dr. Ledoux's use of virtual reality to study cravings as part of broader research into obesity.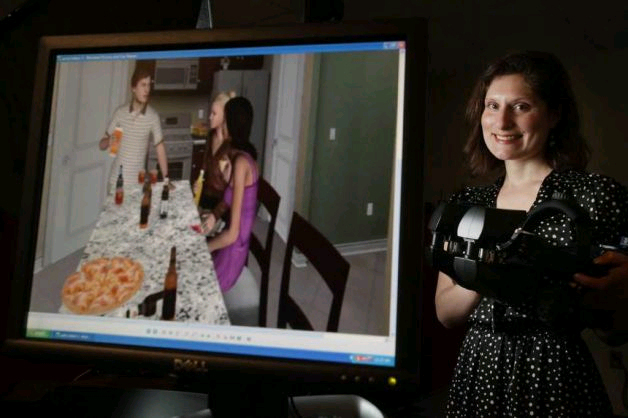 Dr. Tracey Ledoux holding a virtual reality headset
(image courtesy - The Houston Chronicle)
Below is an excerpt from the article:
Gaining weight, researchers now know, involves your brain, hormones and genes, as well as your stomach.
"You're constantly fighting an uphill battle of food cravings … hungry or not," said Tracey Ledoux, a faculty member at the University of Houston who uses virtual reality to study food cravings and other behavior linked to obesity.
Ultimately, she hopes the tool helps people control their cravings for chocolate, cupcakes, pizza and other diet-busters.
"You hear a lot of judgment about (how) people need to eat better and start exercising," Ledoux said.
That advice is still valid. But as science reshapes what we know about obesity and weight loss, it has become clear that it isn't so simple.
Read the entire article on the Chronicle website (pdf version)