HHP Faculty Research Day
HHP faculty presented their research at Faculty Research Day on April 3, 2012. HHP's Faculty Research Day is an annual event in the Spring semester where students learn about the research carried out by our faculty. It is also an opportunity for faculty to attract undergraduate students towards their research area.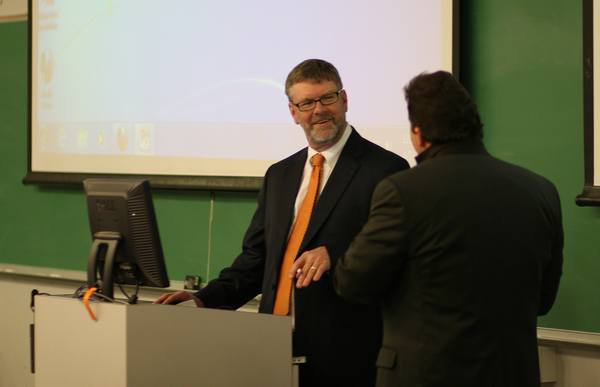 Dr. Layne getting ready for his presentation on faculty research day.
(Scroll down for more images)
Below is a listing of faculty and their presentation topics in order of presentation.
| | |
| --- | --- |
| Dr. Thomas Lowder | Exercise as a means of enhancing the anti-tumor response |
| Dr. Richard Simpson | Acute exercise amplifies the expansion of antigen-specific T-cells: Implications for immunotherapy |
| Dr. Brian McFarlin | The role of monocytes in weight gain associated disease |
| Dr. Stacey Gorniak | The effects of subthalamic nucleus deep brain stimulation (STN-DBS) on bimaual grip force |
| Dr. William Paloski | Effects of space flight on motor control |
| Dr. Tracey Ledoux | Inducing food cravings using virtual reality |
| Dr. Demetrius Pearson | Prole sport social consciousness during an era of sport greed |
| Dr. Charles Layne | Altered proprioception has minimal impact |