HHP is a Winner at the Texas ACSM Annual Meeting
HHP faculty and students presented their research at the 2011 Texas Regional Chapter of the American College of Sports Medicine (TACSM) at the University of Texas Pickle Research Campus in Austin, Feb. 24-25.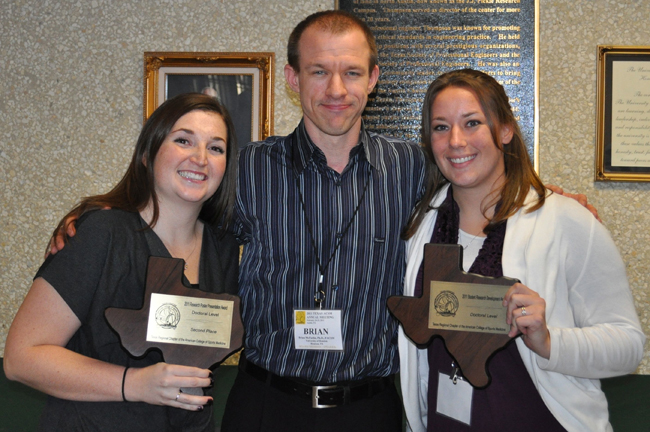 (from left) Katie Carpenter, Dr. Brian McFarlin and Whitney Breslin
Congratulations go to Katie Carpenter who won second place in the doctoral poster category and to Whitney Breslin who won a doctoral student research grant. Congratulations are also in order for HHP Associate Professor Brian McFarlin who was voted president-elect of the TACSM. In his role as president, UH will host the annual 2013 meeting in Houston.
The ACSM is a multi-disciplinary professional and scientific society dedicated to the generation and dissemination of knowledge concerning the motivations, responses, adaptations and health aspects of individuals engaged in sport and exercise.

On a regional level, TACSM promotes and integrates science, education, and practical applications of sports medicine and sport and exercise science to optimize physical performance, fitness, health and quality of life.
Click here to learn more about TACSM
- Martha Hayes