New Research at The CNBR Will Focus on Children With ADHD.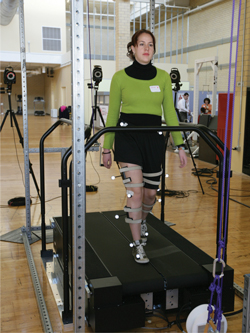 Assessing the adaptation abilities of motor skills among children with Attention Deficit Hyperactivity Disorder (ADHD) is the focus of a new study in the UH Center for Neuromotor and Biomechanics Research CNBR. Dr. Charles Layne, professor and chair of the Department of Health and Human Performance, and Amber Forrest, a doctoral student in the kinesiology program, will conduct their research with children ranging from 6-10 years of age.
Although children with ADHD can learn basic movement skills, they have difficulty in adapting or performing those skills under different conditions or in different environments. It has been suggested that the inability to adapt their movement skills to new environments may be the result of a poorly functioning cerebellum. The cerebellum is intimately involved in producing coordinated movement.
"We want to understand why the brain does not execute a smooth, full range of motor behaviors and create strategies that will, hopefully, develop their motor skills," said Forrest.
Her interest in this research is based on her experience as a physical education teacher while earning her master's in motor learning at Columbia University. Seeing her students with ADHD struggle and not knowing how to help them led Forrest to pursue research in this area.
At the CNBR, Dr. Layne and Forrest will focus on one form of movement adaptation, namely split-belt locomotion. The split-belt treadmill allows the two feet to walk at different speeds, which requires that humans adapt to this very unusual circumstance. To further challenge the adaptation process the children will be required to respond to information presented upon a computer screen placed directly in front of the treadmill.
The information will require the children to identify matching items within a short period of time. This cognitive task combined with the two feet walking at different speeds is expected to result in adaptation patterns for the ADHD children that are significantly different than those displayed by healthy children of the same age.
"Potentially, we can help provide information to therapists or teachers concerning what conditions children with ADHD can adapt their motor skills effectively," Layne said.
The CNBR is part of the HHP department and is located in the National Center for Human Performance in the Texas Medical Center. The Center was established to bring tools and experts in physiology and engineering closer to the physicians and patient populations benefiting from and collaborating in their translational research work.
-- Martha Hayes