Dr. Lisa Alastuey Wins Teaching Excellence Award.
Join the Department of Health and Human Performance (HHP) in congratulating Dr. Lisa Alastuey upon receiving a UH 2010-2011 Teaching Excellence Award.
By the end of the 2011 spring semester, Alastuey will have taught 15 different courses during her six years in HHP—and will add three more in the summer and fall.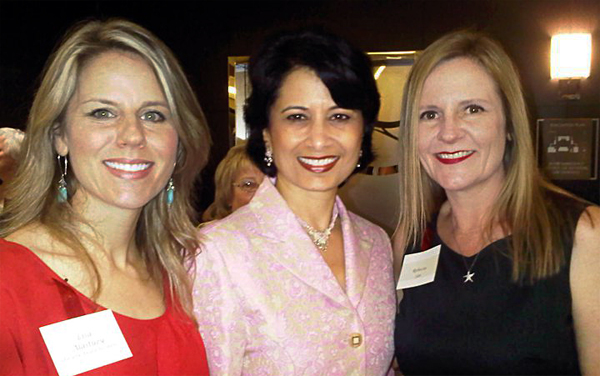 Dr. Lisa Alastuey (left) with UH president Dr. Khator and HHP faculty Dr. Rebecca Lee
As a clinical assistant professor in health and kinesiology, Alastuey explains, "My part as the professor is not only to serve as a facilitator of information, but also to encourage my students to think critically about the material and linking what they are learning in the course to real world applications."
This is a philosophy that describes her teaching objectives, which is to provide fundamental knowledge and tools applicable to her students' career field, and to enhance self-awareness and understanding of health and kinesiology in themselves and others.

Students find that she is approachable, accessible and genuinely interested in their academic achievement. "I strive to be student-focused, engaging, and keen to the uniqueness amongst my students," she said.
Alastuey, personally, likes to challenge herself, and finds that technology and students constantly present opportunities to create innovative models of teaching and learning.
The HHP professor has also received the University Health Educator of the Year Award from both the Southern District American Alliance for Health, Physical Education, Recreation and Dance and the Texas Association of Health, Physical Education, Recreation and Dance.
Before joining the faculty at UH, Alastuey received her bachelor's from Texas Tech University, her masters from Texas State University and her doctorate from Texas A&M University-Commerce.
It is UH faculty, administrators, students and alumni who nominate those selected for the Teaching Excellence Award, which includes an $8,000 prize.
- Martha Hayes
UH News featured and article on the faculty awards for teaching and research excellence, community engagement, advising and mentoring undergraduate researchers. Click to read the article.