HHP Student Presentations in Second Life Featured by UH News.
Over 600 students in 4 HHP classes came together to collaborate and present their research in Second Life. HHP faculty Drs. Layne, Lee, McFarlin and Alastuey came up with a project that had their students collaborate across classes on health intervention programs. The 39 presentations were given over 4 days in Second Life.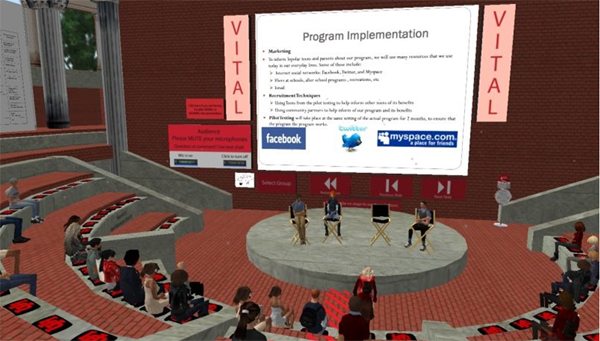 Student avatars presenting in Second Life
The project was titled "Virtual Immersive Translational Applied Learning (VITAL) Showcase in Secondlife", it was an innovative and unique, cross-course project involving four HHP courses. The goal of this project was to promote collaboration and peer-based learning using technologically advanced techniques enhancing accessibility and learning opportunities.
UH news featured the presentations in an article on their website:
"Students from four of our classes are working together in teams to create community health and exercise programs from the ground up," said Charles Layne, professor and department chair.  "From a practical standpoint, meeting in a virtual environment allowed more team members to 'meet.' And we wanted to take advantage of technology to learn and to work as a team."
Read the entire article on the UH website
Click for a HHP Flyer about the VITAL presentations (pdf)
About Second Life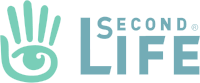 Second Life (SL) is an Internet-based virtual world. A free downloadable client program called the Second Life Viewer enables its users, called "Residents", to interact with each other through motional avatars, providing an advanced level of a social network service combined with general aspects of a metaverse. Residents can explore, meet other Residents, socialize, participate in individual and group activities, and create and trade items (virtual property) and services with one another.