HHP Faculty Research Day 2011
HHP faculty presented their research at the HHP Faculty Research Day on March 29th 2011. There were 12 presentations by faculty members followed by a poster session.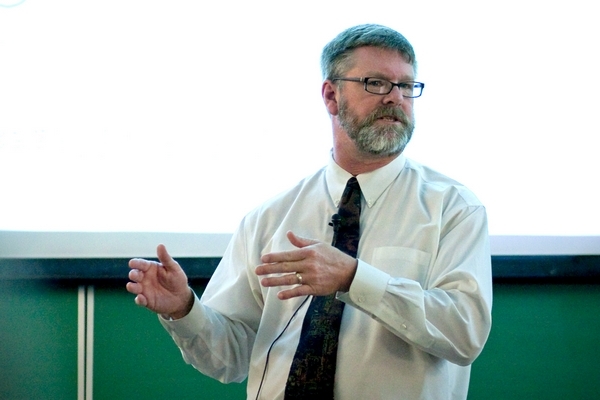 Dr. Layne presenting on faculty research day.
(Scroll down for more images)
Below is a listing of faculty and their presentation topics in order of presentation.
| | |
| --- | --- |
| Dr. Paloski | Punctuated Equilibrium of Quiet Stance |
| Dr. Thrasher | Function Electrical Stimulation for Exercise After Spinal Cord Injury |
| Dr. O'Connor | Scale Properties and Measurement Invarianceof the IPS Environmental Survey |
| Dr. Layne | Does Vibration Impact Adaptation to Split-belt Treadmill Locomotion? |
| Dr. McFarlin | The Role of Monocytes in ObesityAssociated Disease |
| Dr. Simpson | Exercise, Viral Infections and the AgingImmune System |
| Dr. Lowder | Enhanced Treg-mediated Suppression and Reduced Asthma Severity in the Offspring of Mice Exercised Prior to Pregnancy |
| Dr. Clarke | Sweat: a Potential Means of Monitoring Bone Loss |
| Dr. Ledoux | Relationship Between Brain Responses toPalatable Food and Food Addiction Tendencies Among Adolescents |
| Dr. Pearson | Cowboys of Color: The Perceived Socio-culturalSignificance of U2 Rodeo |
| Dr. Liu | Effect of Walking Surface Perturbation on Local Dynamic Stability |
| Dr. Lee | Reversing the Obesogenic Environment |
Images from Faculty Research Day: