HHP Alumnus named Dartmouth Softball Coach
HHP Alumnus Lindsay Foreman has been named the assistant softball coach at Dartmouth. She was previously the the head coach at Pasadena Memorial High School in Texas.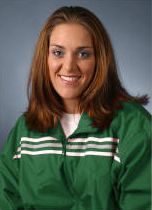 Lindsay Foreman
A catcher by trade, Foreman was a four-year letterwinner for the softball team at the University of Houston. As a member of the Commissioner's honor roll in Conference USA, she was given the team's Player's Choice Award and also earned the squad's highest GPA. Foreman helped the Cougars to the 2003 NCAA Regional Finals and a four-year record of 140-102.
Her appointment as the assistant coach was featured on the Dartmouth Sports website, below is an excerpt from the article:
Dartmouth head softball coach Rachel Hanson has named Lindsay Foreman as her new assistant coach for the Big Green's program. Foreman, a four-year letterwinner at the University of Houston, most recently was a high school head coach.
"I am pleased that Lindsay will be joining us," Hanson said. "She has seen quite a bit of success the last few years as a high school coach and is excited to step into the college ranks to help Dartmouth softball reach new heights."