The Wii Studio - Still Making Waves.
HHP's Wii studio was featured on Houston's, KHOU Channel 11's "Great Day" show on January 13th 2010. HHP Chair Dr. Charles Layne and, Wii Class student, Todd Boutte were interviewed live on the show.
Click on the image below to watch the clip
HHP's Wii studio has been extensively featured in the media since it debuted in the fall of 2009. You can read all about it on the Wii Studio news page.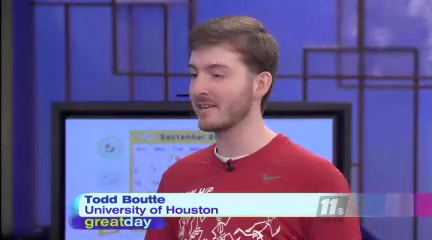 Mr. Todd Boutte demonstrating the Wii fit