Sad News: HHP Faculty Marcus Edwards Passes Away.
With a heavy heart we report the passing away of HHP faculty Marcus Edwards on Friday, March 26th 2010 from complications following a single person car accident. He was 40 years old.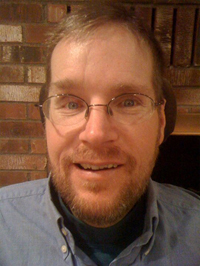 Marcus Edwards
A popular instructor, Marcus was also a recent graduate of HHP's Allied Health M. Ed. program. The Edwards' have a long relationship with HHP, our hearts go out to his wife Lindsay who got her doctoral degree at HHP and is a current instructor in the department. He will be missed by everybody in the department.
In lieu of flowers, the Edwards family asks you to donate to The Marcus Edwards Memorial Fund. Please send to : First Financial Bank, 4400 Buffalo Gap Road, Abilene 79606. Attn: Rosa Ortiz. Please indicate the fund in the memo portion of your check. You can also drop off donations at the HHP office in Garrison until noon on April 2nd.
You can post your memories of Marcus on our facebook page.