Dr. Lee's SALSA Study Making Waves.
Dr. Rebecca Lee's award winning, community based, study SALSA ('Saving Lives, Staying Active,') was recently featured in a prime time segment on ABC affiliate WKOW-TV news.
The SALSA study tests an innovative health intervention using web resources and salsa dancing to promote physical activity and improve dietary habits in women of color.
Click on the image below to see the clip: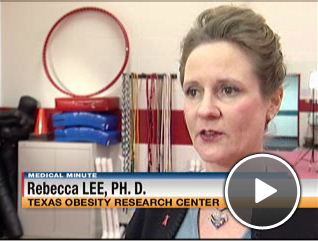 The SALSA study received the award for Outstanding Achievement for a Community Program from the Texas Council for Cardiovascular Disease and Stroke in 2009.
You can watch the clip on the WKOW-TV website, below is an excerpt from the article accompanying the video on the WKOW-TV website:
The added exercise made a big difference in their days. "We found they were doing about an hour and 45 minutes more physical activity than they had been doing previously after the project," says Dr. Lee.
Blood pressure rates also dropped after the women danced. "You don't feel as though you are actually exercising. You feel more like you're doing something fun," says Dr. Lee.
And Joyce found another benefit. "I found that when I stay active and I move more that my arthritis really doesn't really bother me as much," says Joyce. She adds, "I think it's something that I will always be a part of me and that I'll enjoy."
The study incorporated a side component using salsa, the food, because it can be made many different ways with fruit and vegetables. Women logged onto a webpage during a four-week period to find new content and new recipes to encourage them to eat healthy.