HHP Alum Wins Coker Fellowship at USC.
HHP Alumni Jorge Banda has been selected for the Charles Coker Trustee Fellowship for 2010 at the Arnold School of Public Health and the Exercise Science at the University of South Carolina.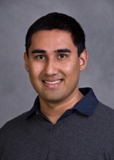 Jorge Banda
Jorge is a recent graduate of the Master's program at HHP and is currently pursuing his Doctoral degree at University of South Carolina.
The $3500 Charles Coker Trustee Fellowship is awarded annually to two graduate students at USC who exhibit excellence in graduate study, research, and scholarship.