TACSM Conference Brings Scientists Together at UH
UH hosted the annual conference of the Texas American College of Sports Medicine (TACSM) at the M. D. Anderson Library March 4-5, 2010.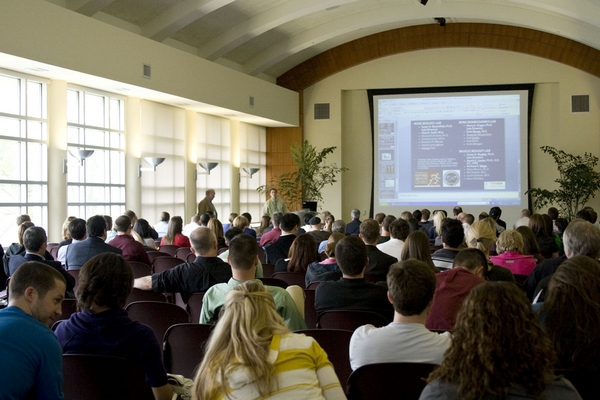 The TACSM annual meet underway at the UH library
(scroll down for more images)
It opened with the inaugural TACSM Student Bowl where each participating university was represented by a team of three students in the Jeopardy-style competition. Six teams took part in the student bowl - Mary Hardin-Baylor, Texas A&M, Texas Woman's, UH, UT-Austin, UTEP, UTSA, and UT-Tyler. The winning team from the University of Texas will go on to compete in the organization's national conference in June.
The annual meeting included the following lectures:
RAVEN LECTURE: Exercise and Insulin - Greg Cartee PhD, FACSM, University of Michigan, Ann Arbor, MI
Cardiovascular Effects of Spaceflight - Michael W. Bungo MD, UTHSC, Houston, TX
Exercise Associated Hyponatremia - John Cianca MD, FACSM, Baylor College of Medicine, Houston, TX
Exercise Therapy for the Prevention & Treatment of Cancer - Lee W. Jones, PhD, Duke University Medical Center, Durham, NC
Congratulations go to HHP graduate students Kelley Strohacker, Emily LaVoy and Guillaume Spielmann who won grants at the conference to support their research, and to John Ward who won second place for his poster presentation.
Professor Brian McFarlin serves on the TACSM board of directors and was instrumental in bringing the conference to UH. He said that the successful event connected more than 250 established and developing scientists from across the state of Texas.
Below are some images from the 2010 TACSM annual meeting.
The purpose of the Texas American College of Sports Medicine (TACSM) is to fulfill the objectives and purposes of ACSM as appropriate at the regional level.

The American College of Sports Medicine (ACSM) is a multi-disciplinary professional and scientific society dedicated to the generation and dissemination of knowledge concerning the motivations, responses, adaptations and health aspects of persons engaged in sport and exercise.