The 2010 Texas Obesity Research Center Conference "Advancing Obesity Research in a New Decade" was held on November 18-19, 2010 in the Elizabeth D. Rockwell Pavilion, MD Anderson Library at University of Houston. The keynote address was delivered by Dr. Michael Goran, Director, Childhood Obesity Research Center, Keck School of Medicine, University of Southern California.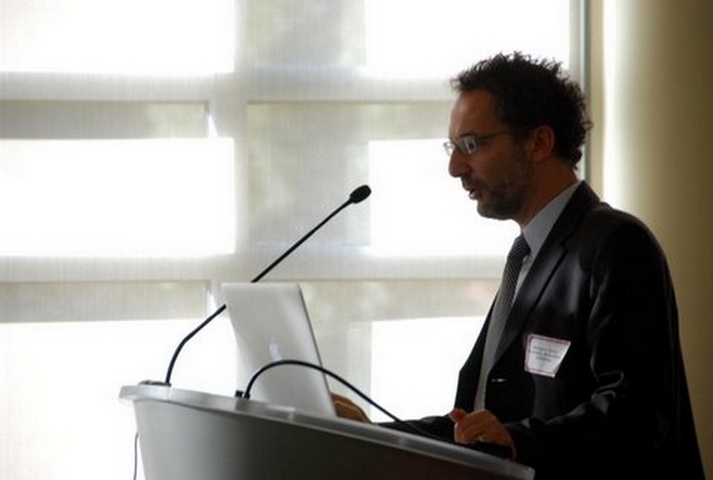 Dr. Michael Goran giving the keynote address at the 2010 TORC conference.
(Scroll down for more images)

UH news featured the conference in an article titled "Researchers, Policymakers Gather to Discuss Obesity in the New Decade", below is an excerpt from the article:
State Rep. Carol Alvarado will join a panel of experts to discuss health care reform and obesity. Participants also will hear about "Nightclub Cardio," a workout set to nightclub music.
"Obesity is a national health crisis," said Dr. Kathryn Peek, assistant vice president of university health initiatives. "By bringing together researchers from a variety of fields, UH's TORC is emerging as a national leader in finding workable solutions for the obesity epidemic."
Images from Graduation Day, December 2010:
Below is a listing of various speakers and discussion panels at the conference.
Welcome from TORC Director Rebecca E. Lee, PhD. Associate Professor of Nutrition, Department Health and Human Performance, Director, Texas Obesity Research Center, University of Houston

UH Health Initiatives: Education, Research and Community Engagement
Kathryn Peek, PhD. Assistant Vice President, University Health Initiatives, University of Houston

Keynote Speaker: The Future of Childhood Obesity Research
Michael I. Goran, PhD. Director, Childhood Obesity Research Center, Keck School of Medicine, University of Southern California
Panel 1: Clinical and Translational Research
Janet Buckworth, PhD. Associate Professor, College of Education and Human Ecology, Ohio State University

Romi Ghose, PhD. Assistant Professor, Pharmacological and Pharmaceutical Sciences, University of Houston

Lovell Jones, PhD. Director, Center for Research on Minority Health, University of Texas MD Anderson Cancer Center

Leigh Leasure, PhD. Director, Behavioral Neuroscience Lab, Associate Professor,Department of Psychology, University of Houston

Evangelina Villagomez, Ph.D. Research Scientist, The Methodist Hospital Research Institute-Center for Diabetes Research Division of Medicine
Panel 2: Community Based Research
Baker Harrell, MEd. Founder & CEO, Active Life Movement

Deanna M. Hoelscher, PhD. Professor of Health Promotion, University of Texas School of Public Health

Lucie Levesque, PhD. Associate Professor, Kinesiology and Health Studies, Queen's University

Lorna McNeill, PhD. Assistant Professor, Department of Health Disparities Research, University of Texas MD Anderson Cancer Center

Jason A. Mendoza, MD, MPH. Assistant Professor of Pediatrics, Baylor College of Medicine
Salud Familia: Latino Children's Wellness Program
Nicolás Kanellos, PhD. Professor of Hispanic Literature, Department of Hispanic Studies, University of Houston
Fit, Fabulous, & Free
Cherita Andrews, BA. Founder of Fit, Fabulous & Free
Debate and Discussion: Obesity and Health Care Reform
Carol Alvarado, MBA. Texas State Representative, District 145

Charles Begley, PhD. Professor of Management and Policy Sciences, School of Public Health, University of Texas Health Science Center at Houston

Henry Brown, PhD. Associate Professor of Health Economics, Michael & Susan Dell Center for Advancement of Healthy Living Institute for Health Policy

John Lunstroth, PhD. Adjunct Professor of Law, University of Houston Law Center
Visit the Conference home page on the TORC website