TORC Research Featured in Envy Magazine.
The activities of the Texas Obesity Research Center (TORC) were featured in Envy Magazine which bills itself as the ultimate guide to current culture. In its September 2009 issue, Envy described the obesity prevention efforts at TORC and hoped that its efforts in the local community would take Houston off the list of most obese cities in the US.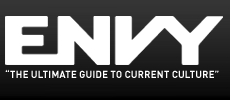 An excerpt from the article:
The health-conscious scientists at TORC aim to inform the public on obesity prevention and give countless amount of resources on doing so. They have the strong muscle to fight obesity through research and health education and often host conferences open to the public.

About TORC:
The mission of the Texas Obesity Research Center (TORC) is to conduct basic and applied research in obesity prevention and control, and to identify evidence-based approaches to the prevention and treatment of obesity.  TORC will strive to educate students in an interdisciplinary approach to topics related (but not exclusive) to obesity, and its commorbities.