HHP's Human Space Exploration Science's Degree Approved.
The Texas Education Coordinating Board has approved HHP's latest graduate degree: Master of Science in Human Space Exploration Science's. The program focuses on developing individuals with the necessary skills and understanding to allow them to enter the space exploration workforce with ease.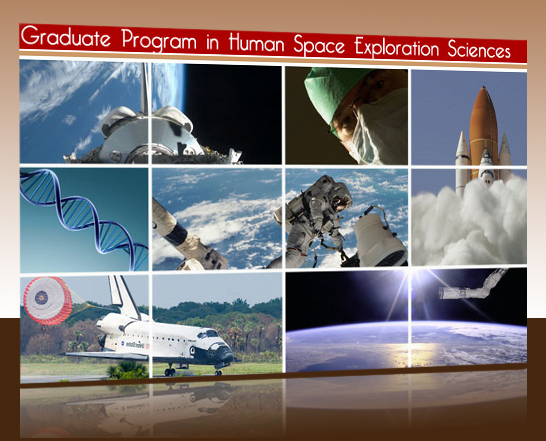 The program is designed to provide a course of study at the graduate level which provides a broad human physiology background with a strong specialization in those areas focusing on human physiological adaptation to space flight and the area known in the space industry as "man-in-the-loop", a central concept/component of the manned space flight program.
The new graduate degree and HHP's research ties with NASA were featured in a news item from the University of Houston.
An excerpt from the news release:
 "There is nothing like this anywhere," said William Paloski, professor of health and human performance.  "For a person to learn the kinds of things that will be taught in this program, they literally would have to receive on-the-job-training in many different professional positions, which is very unlikely."  Paloski comes to UH from NASA where he researched biomechanics and the impact of space flight on astronauts.  This research has application to the elderly and those who are mobility-challenged. 
"One of our goals is to draw students into a Ph.D. program.  Another is to assist current employees of the space program to continue their professional development," Paloski said.  "We hope to keep talented people-new and current-from leaving the industry and leaving Houston."
Paloski spent 23 years at NASA as a researcher in its neuroscience laboratory researching postural stability, control, and performance before and after space flight. He also maintained laboratories at Kennedy Space Center, the Dryden Flight Research Center in California and the Gagarin Cosmonaut Training Center in Star City, Russia. 
Read the entire article on the UH website
The Daily Cougar featured the new Human Space Exploration Degree in an article on July 28, 2009.
An excerpt from the article
NASA scientists won't have to travel far from Johnson Space Center to teach an exclusive master's program this fall.
Under the direction of the Department of Health and Human Performance, the master's program in human space exploration will make its national debut at UH.
"This program has been a long time in development," Department Chair Charles Layne said. "When I came to the University in 1997, I immediately thought it would be great to take advantage of the geographical location of the Johnson Space Center, and see if we could create a curriculum to benefit from all that scientific and technical talent."
Visit the Human Space Exploration Sciences Degree website