An iShoe Update.
The iShoe team has turned the concept into a startup company. HHP alumnus Dr. Katharine Forth, who was part of the team that created the iShoe, has been named as the chief technology officer. HHP faculty Dr. Charles Layne and Dr. Bill Paloski have been named to the board of advisors.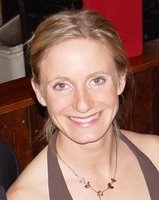 Dr. Katharine Forth 
CTO, iShoe
Unveiled in the fall of 2008, the iShoe was critically acclaimed in television, print and digital media around the world. The result of an collaboration between NASA, Harvard and MIT researchers, the iShoe is embedded with sensors in the sole and aims to send alerts when the user is losing balance, thus allowing doctors to diagnose balance related problems early on.
Read previous HHP news item on the iShoe
Initial iShoe Prototypes
The iShoe startup has won competitions and is currently seeking funds from investors.
Meanwhile iShoe continues to make news around the world, a few recent media mentions:
The New York Times - Who Owns Your Great Idea?
Discovery Channel Canada's TV show, Daily Planet.
Popular Mechanics, March 2009. - "The Human Machine: Twenty Breakthroughs that blur the line between biology and technology."