HHP Alumnus wins gold medal in World Championships.
HHP Sports Administration alumnus, Julia Pakhalina, competing for Russia won the gold medal in women's 1-meter springboard diving Sunday at the 13th FINA World Championships 2009 in Rome. Julia led from start to finish and totaled 325.05 points through the five-dive final.
After this gold medal, Pakhalina has 12 awards in Olympic Games (five medals, including one gold) and World Championships (seven medals, including three titles).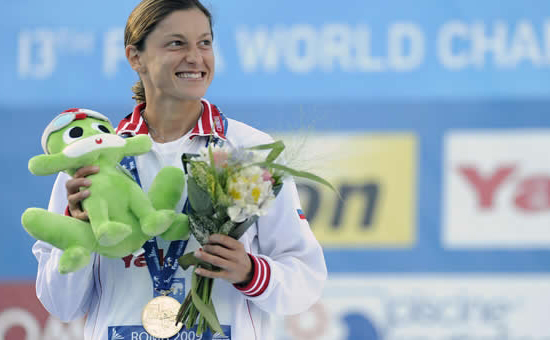 Julia Pakhalina at the 13th FINA World Championships 2009
Julia won 2 silver medals at the Beijing 2008 Olympic Games. She won the silver medal for Russia in the women's 3m springboard diving and the silver along with current UH student Anastasia Pozdnyakova in the women's synchronized 3m springboard diving.

The FINA World Championships are the World Championships for aquatic sports: diving, swimming, open water swimming, synchronized swimming and water polo. They are conducted by the International Swimming Federation (Fédération Internationale de Natation - FINA)
Article in Houston Chronicle: "Pakhalina rediscovers golden touch"