HHP Alumnus Coach Dan Green Retires.
"If you're really lucky, you've had a Dan Green in your life" was how the Houston Chronicle described Coach Dan Green. An HHP alumnus, Coach Dan green is retiring after 33 years as The Woodlands High School's track and cross-country coach. Coach Green won 15 cross-country championships. He's a two-time national high school cross-country coach of the year.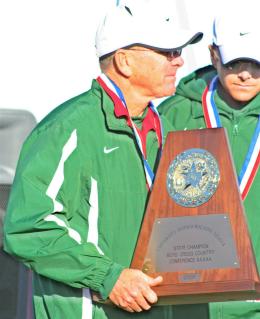 Coach Dan Green
The Houston Chronicle ran a special article featuring Coach Green, below is an excerpt from the article.
If you're really lucky, you've had a Dan Green in your life. He's that special coach, the one who cussed the loudest, pushed the hardest, cared the most.
.....
Did you have one like him? You hated him one moment, loved him the next. Funny thing is, you never stopped trying to please him.
Truth be told, you may spend the rest of your life trying to please him. Sometimes you'll realize it, sometimes you won't.
You still quote him, still recall his values, and sometimes when the road is hard, you still phone him for advice. You know he'll listen and talk and care, and you'd trust him with your life.
Let's not paint this portrait too romantically. Green is an ornery cuss, demanding and unforgiving and quite frequently loud. He also has this magical ability to help kids and get them to accomplish things they never thought possible.