HHP Alumnus Hosts "Cougars Tonight" Radio Show.
HHP Alumnus Kevin Joseph was recently featured in the Houston Chronicle for his popular radio show "Cougars Tonight". It airs on AM radio "1560 The Game" from 7 p.m.- 8 p.m. Fridays. Kevin is also the producer of "Gametime," which airs from 2 p.m.- 6 p.m. on Saturdays and Sundays.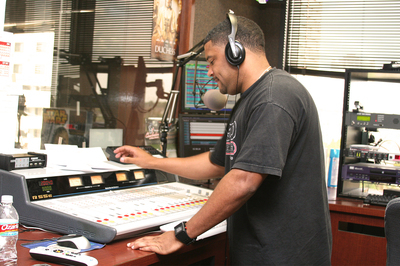 Kevin Joseph in the studio
Talking about his time at HHP, Kevin was full of praise for the department, below are some excerpts from the article:
When he enrolled in the Department of Health and Human Performance (HHP) he said "I knew without a doubt that the HHP department at UH and was the best program for me to complete my degree requirements."
As a life-long sports fan and participant, Joseph realized that the kinesiology program gave him the opportunity to learn all the benefits of exercise science and fitness. He also enjoyed the ability to interact with the department's instructors and their willingness to help the students.
Intern opportunities are an integral part of the HHP program, and Joseph created his opportunity by requesting an internship from John Granato, senior vice president of operations for 1560, who was happy to oblige. Granato also co-hosts the "John and Lance Morning Show" Monday-Friday from 7 a.m-11a.m. with Lance Zierlein.