BOUNCE Featured on Fox 26 News.
HHP's BOUNCE (Behavior Opportunities Uniting Nutrition, Counseling and Exercise) Program was featured on FOX 26 news in a segment on removing the mandate for health classes in Texas high schools.
Kayce Hall, the exercise coordinator for BOUNCE summer camp explained the importance of these health classes in helping kids learn more about their bodies. The BOUNCE summer camp is highly popular among kids and sees many kids come back each summer.
Click on the image below to see the clip: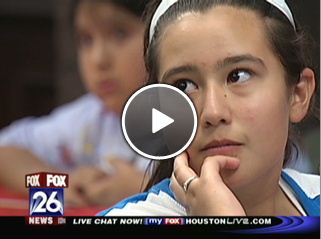 About BOUNCE:
The mission of the BOUNCE program is to empower Hispanic and African American preadolescent girls between the ages of 9-14 and their parents, through collaborative efforts between academia and community, to adopt a healthy lifestyle by incorporating healthy food choices, daily exercise, and positive self-esteem while forming lasting friendships in a fun and exciting environment.