Alumni Magazine Features UH Regent and Dr. Pearson's Rodeo Research.
The UH Alumni Quarterly (Spring 2009) recently published an article chronicling the rodeo contributions of Regent Calvin Stephens.  A key figure in the funding and sanctioning of many black rodeos in the Dallas-Fort Worth area, Stephens' colleagues were among those interviewed by Dr. Pearson in several journal articles published by the HHP associate professor. 
The UH Alumni Quarterly article entitled "Ropin' Ridin' Regent" highlights what Dr. Pearson refers to as "Shadow Riders" and other American West trailblazers whom history has somehow forgotten.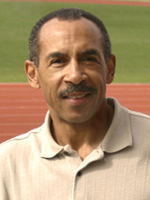 Dr. Pearson
Dr. Pearson's most recent manuscript addresses the Cowboys of Color Invitational Rodeo series and its community contributions.