HHP Alumnus Helps Select ESA Astronauts.
HHP Alumnus Casey Pruett, managing director of Wyle Laboratories GmbH unit played a vital role in the recent selection of six new European Space Authority (ESA) astronauts, the first named since 1992. Mr. Pruett served as deputy project manager for the psychological and medical aspects of selecting new ESA astronauts.
The new astronauts are Samantha Cristoforetti of Italy, Alexander Gerst of Germany, Andreas Mogensen of Denmark, Luca Parmitano of Italy, Timothy Peake of the U.K. and Thomas Pesquet of France.
They were selected following a Europe-wide recruitment process that began in 2008. Following thorough psychological, medical and professional screening that started with 8,413 applicants, they are the first new recruits to join the European Astronaut Corps since 1992 under this second-ever astronaut selection carried out by ESA.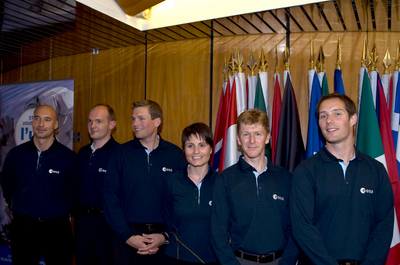 Europe's New Astronauts 
From left to right: Luca Parmitano, Alexander Gerst, Andreas Mogensen, Samantha Cristoforetti, Timothy Peake and Thomas Pesquet. Credits: ESA - S. Corvaja, 2009
The six individuals who will become Europe's new astronauts were presented at a press conference held at ESA Headquarters in Paris, France, on 20 May 2009. The new recruits will join the European Astronaut Corps and start their training to prepare for future missions to the International Space Station, and beyond.