HHP Faculty and Alumni Collaborate on iShoe Project.
HHP alumnus Dr. Katharine Forth is a member of the team responsible for creating the iShoe. The iShoe unveiled last week was critically acclaimed in television, print and digital media around the world. The result of an collaboration between NASA, Harvard and MIT researchers, the iShoe is embedded with sensors in the sole and aims to send alerts when the user is losing balance, thus allowing doctors to diagnose balance related problems early on.
HHP chair Dr. Charles Layne, new HHP faculty Dr. Bill Paloski along with a team of LIP (Laboratory of Integrated Physiology) researchers will participate in research to evaluate the iShoe at the National Center of Human Performance in the Texas Medical Center.
Click the video below to see a clip of CNN's story on the iShoe with the team leader Erez Lieberman.
| | |
| --- | --- |
| Dr. Katharine Forth | Dr. Charles Layne |
The iShoe project was featured extensively in prominent media outlets like CNN, ABC, MSNBC, TIME magazine etc and on popular online tech blogs like Endgadget and Gizmodo.
The idea for the iShoe came to Erez Lieberman while he was working at NASA last summer on a project to help astronauts regain balance after months in zero gravity. The work is part of preparations for long space missions, such as trips to Mars, that require astronauts to perform complicated tasks on the terrain soon after landing.
He and Katharine Forth, a visiting scientist at NASA who also works on the iShoe, had been touched personally by the issue of elderly falls, with each seeing a grandmother's health rapidly deteriorate after such an accident.
"It was something that has kind of been on my mind in general, and once I started looking at balance it became very clear it would have applications in that direction," Lieberman said.
Excerpt from CNN's report on the iShoe, click to read the full report (pdf)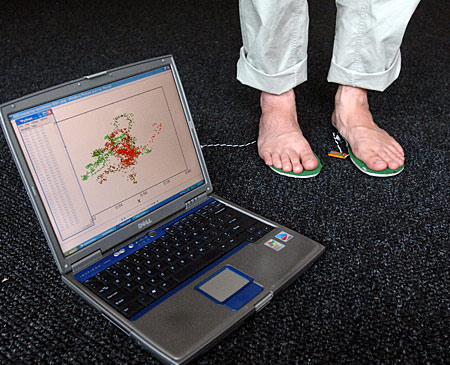 The iShoe prototype
Below are some of the media outlets that carried the story.
Related Websites: