Dietetic Internship Program featured in the Houston Chronicle.
The University of Houston Dietetic Internship Program was featured in the Sunday edition of The Houston Chronicle, on Jan 13th 2008, in a special section on "Careers in Healthcare".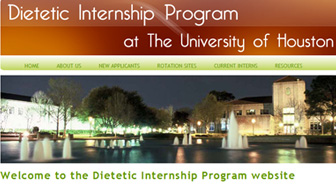 "Although there are five Dietetic Internships in the area, ours is unique in the way it's designed," Dr. Bode said. "During the Six-month internship, 900 hours are required by the Commission on Accreditation of Dietetic Education. However, our students work an intensive 1000 hours, which adds up to 40 or more hours a week during the 26-week time frame."
Click to read the full article (pdf file - opens in a new window)