BOUNCE Lite Summer Camp at HHP.
THe BOUNCE Lite Summer camp is underway at HHP. BOUNCE, Behavior Opportunities Uniting Nutrition, Counseling and Exercise, is a four-week summer camp that focuses on the importance of physical activity, healthy eating and positive body image. Among the activities are Beauty Within Me, Dealing with Bullies, The Making of a Super Role Model, Conflict Resolution, My Healthy Plan and Etiquette. Girls also will practice yoga, hip-hop dancing and salsa.
The university isssued a press release detailing the unique experiences of the BOUNCE Lite program.
From scrapbooking to journaling to money tips to leadership skills. One summer camp at the University of Houston has a little BOUNCE.
"Our goal is to encourage minority adolescent girls to feel good about themselves inside and out, and we want them to have a lot of fun on that discovery," said Norma Olvera, BOUNCE program director and associate professor in the department of health and human performance.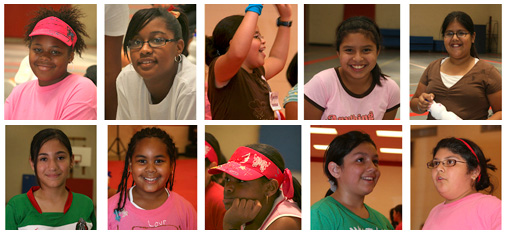 Some of the smiling faces taking part in the BOUNCE Lite Summer Camp
The 4 week program focuses on empowering Hispanic and African American preadolescent girls between the ages of 9-14, through collaborative efforts between academia and community, to adopt a healthy lifestyle by incorporating healthy food choices, daily exercise, and positive self-esteem while forming lasting friendships in a fun and exciting environment.