HHP doctoral students fly on the "Vomit Comet"
HHP doctoral students, Meghan Everett and Melissa Scott-Pandorf, took part in a flight on NASA's "Vomit Comet", the C9-B.
The purpose for the flight experiment was to compare true zero gravity locomotion with that of ground based simulated zero-g analogs (i.e. the Cleveland Clinic's Zero gravity locomotion simulator). During each flight they collected locomotion kinematics and EMG while participants walked and ran on a treadmill. This data will be analyzed and then compared to data that was collected in the zero gravity locomotion simulator.
Below are some pics from the flight
NASA Reduced Gravity Research Program
The NASA Reduced Gravity Program operated by NASA Lyndon B. Johnson Space Center (JSC) in Houston, Texas, provides the unique "weightless" or "zero-g" environment of space flight for test and training purposes on a cost-reimbursable funding basis. With the coming of age of the Space Transportation System and the current plans for the Space Station, this capability is ideal for the development and verification of space hardware, experiments, crew training and it is also ideal for doing basic research.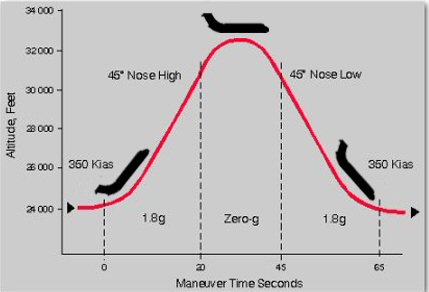 C-9B Flight Trajectory
The C-9B Aircraft is a two-engine turbofan aircraft similar to the McDonnell-Douglas DC-9

Click here for more info on the C9-B and NASA's Reduced Gravity Research Program (opens in a new window) 
One of the students who took part in the flight, Melissa Scott-Pandorf was also featured extensively in the media for her research in redesigning the space suit for astronauts. Click here to read more about her exploits.