Dr. Joel Bloom presents the SuperCyclist Curriculum.
HHP faculty Dr. Joel Bloom who is also a Texas Bike Coalition field instructor presented the SuperCyclist Curriculum in Pasadena, TX. This event was featured by the Texas Bike Coalition on BikeTexas.org. Click here to read the entire article. (pdf version )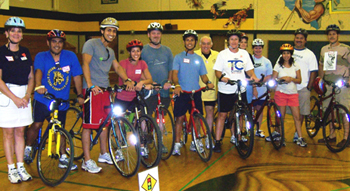 Twelve teachers from the Houston area enjoyed Dr. Bloom's presentation of the SuperCyclist Curriculum. The 6 hour bicycle safety course is designed to be fun, educational and interactive. Dr. Bloom adds to the training his own personal riding experiences, telling the teachers about his trip to Scotland, where cycling is the main mode of transportaion. The country was very bicycle friendly and the whole family rode.
BikeTexas.org is a public, member, and educational service website of the Texas Bicycle Coalition. By providing news regarding resources and programs, BikeTexas.org is designed to increase awareness and interest in bicycle access, safety, and education to cyclists at both the state and national level.