Cougar Open -  April 20-23, 2023
The 8th annual cougar open wheelchair tennis tournament will be hosted by UH Adaptive Athletics on April 20-23, 2023.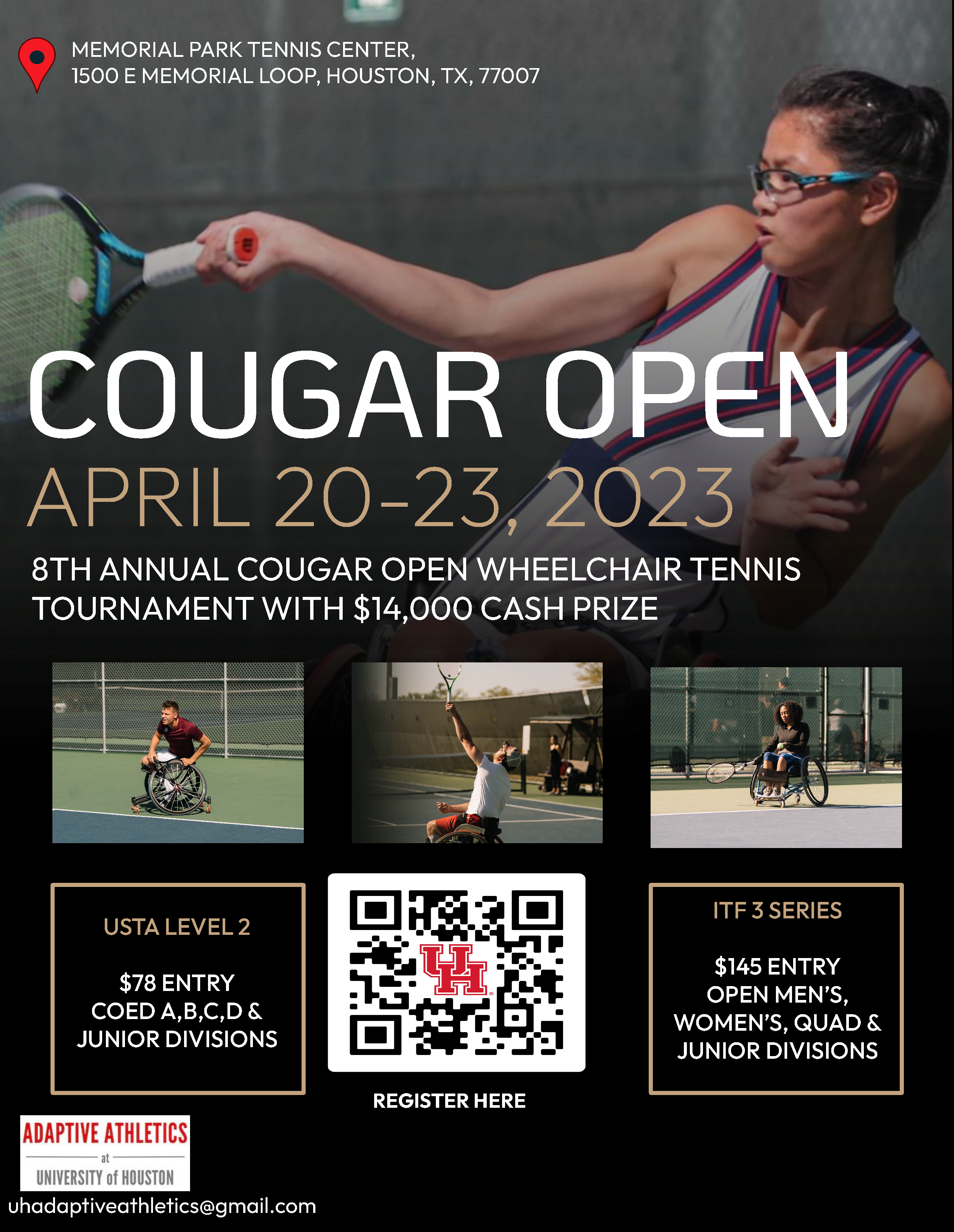 Cougar Open Information Flyer (pdf)
For more information on Cougar Open, please contact: 
Adaptive Athletics at UH
uhadaptiveathletics@gmail.com
Previous Tournaments:
2020 UH Cougar Open, February 21-23, 2020
Location: Memorial Park Tennis Center, Houston, TX 
Tournament ID: 800064620
2019 Cougar Open, October 25-27, 2019
2019 Cougar Open flyer in English and Spanish
Tournament ID: 800064619
For more information on the 2019 Cougar Open, please contact:
Claudia Silva
Adaptive Sports Coordinator
uhadaptiveathletics@gmail.com
2018 Cougar Open, October 19-21, 2018
For more information on the 2018 Cougar Open, please contact:
Samantha Kwan, PhD
Director of the Cougar Open
uhadaptiveathletics@gmail.com
(713) 743-3948
2017 Cougar Open, October 6-8, 2017
Thank you to our sponsors, donors, UH Adaptive Athletics coordinators, volunteers, Memorial Park staff, and USTA official Tomoko King for making the 2017 UH COUGAR OPEN PRESENTED BY THE ONE STEP CLOSER FOUNDATION a success. We hope the players had a great time and we look forward to seeing everyone in 2018.
UH News featured the 2017 Cougar Open in a news item titled, "UH Hosts Nationally Sanctioned Wheelchair Tennis Tournament"
2016 Cougar Open
Adaptive Athletics at the University of Houston hosted its first United States Tennis Association (USTA)-sanctioned wheelchair tennis tournament October 28-30, 2016. The event featured 20 players in the A, B, C, and Quad divisions competing in singles and doubles matches. We would like to thank the athletes, student coordinators, community volunteers, USTA officials, corporate sponsors, and individual donors for making the inaugural UH Cougar Open an overwhelming success! The Houston Chronicle featured a story about the 2016 UH Cougar Open. The article includes insights from the Director of Adaptive Athletics, Dr. Michael Cottingham, as well as the Director of the Cougar Open, Dr. Samantha Kwan.