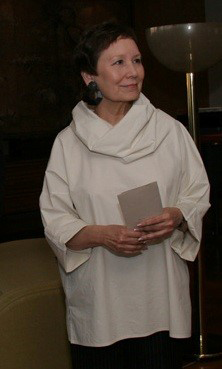 Gulf Coast literary magazine has announced Ayanna Dozier as the winner of its 2020 Toni Beauchamp Prize in Critical Art Writing, for her essay "Sound Garden: Ja'Tovia Gary's The Giverny Document." As winner of the Toni Beauchamp prize, Dozier will be awarded $3,000 and her winning piece will be featured in the Winter/Spring 2020 print issue of Gulf Coast. The competition judge was Franklin Sirmans, curator, writer, editor, and the director of Pérez Art Museum Miami (PAMM).

Gulf Coast literary magazine began in 1982 as Domestic Crude, and three years later changed its name to Gulf Coast. It is supported by the community as well as the University of Houston English department and provides students literary publishing experience. While the literary magazine started out as a local project, over the years it has received international attention. As a result of this global circulation, essay entrants now come from far beyond the Houston area.

The Toni Beauchamp Prize recognizes writers who combine scholarship and journalism, along with showcasing literary excellence and a unique voice. Toni Beauchamp, the award's namesake, was a lifelong supporter of the arts in Houston and Texas. The prize is dedicated in her memory to encourage writing, thinking and talking about art. Submissions were taken from critical essays written and submitted this year.

Ayanna Dozier, Ph.D., is a writer, lecturer, curator, filmmaker, and performance artist. Her experimental short film Softer (2020) was part of the official selection showcase in several 2020 fall film festivals, including Open City Documentary Festival and the Aesthetica Short Film Festival where it was the recipient of Best Experimental. Her doctoral dissertation, Mnemonic Aberrations (2020), traces the history of Black feminist experimental short film in the United States and the United Kingdom from 1968 to the present. Her work has been exhibited at Westbeth Gallery, Evening Hours, MONO NO AWARE, and Anthology Film Archives. She is the author of Janet Jackson's The Velvet Rope (2020). Her most recent publication, Rebellious Inventions: Abstraction in the Black Diaspora (2020), accompanies her co-curated exhibition, Abstraction in the Black Diaspora, organized with Tariku Shiferaw at False Flag Gallery. She was a 2018–19 Helena Rubinstein Fellow in Critical Studies at the Whitney Independent Studies Program.

To support the Toni Beauchamp Prize, contact Kim Howard, klhoward@central.uh.edu