Marina Shimer
I found my calling accidently, during a life-changing undergraduate U.S. history survey my first semester at Stephen F. Austin State University. Although I had intended to pursue a different degree altogether, I confidently changed my major to history after freshman year and never looked back. During my studies at SFA, I volunteered at the East Texas Research Center, took extraordinary courses in women's, family, and public history, and completed an internship with Carolyn Smith at the Stone Fort Museum. I was especially fascinated by the field of public history, which seemed to offer a dynamic and creative approach to the subject I loved. At the encouragement of my mentors at SFA, I applied and was accepted to the public history master's program at the University of Houston.
At UH, I was extremely lucky to be awarded a research assistantship working as the Associate Editor of Houston History. Collaborating with Dr. Debbie Harwell and the magazine staff was a profound honor. I even got the chance to publish "Remembering 'The Mouse that Roared': Eleanor Tinsley and Houston," research from which I presented at the 2017 Texas State Historical Association conference.
My coursework, too, provided unique opportunities to explore how I might eventually plug into the field of public history. I designed a family history sharing website now in further development, conducted numerous oral history interviews, and made connections with colleagues I will cherish for the rest of my life.
The requirements of my degree also gave me extraordinary opportunities as an intern at the Carey C. Shuart Women's Archive, where I processed the Missouri City Chapter of the Links, Inc. collection under the direction of Vince Lee, and at the Houston Fire Museum, where I organized and documented hundreds of collection items in museum storage. After graduating, I was brought on permanently at the Houston FIre Museum, first as the Collections Coordinator, and recently as the museum Director. The skills and relationships I built through the Center for Public History were instrumental in making me into a successful public historian, and prepared me well for my duties at the Houston Fire Museum as well as wherever my path may lead.
 Julie Sarpy
A native of Shreveport, Louisiana, I have spent the past 14 in Texas studying library science, health informatics and medieval history. Having received my undergraduate degree from UCLA, I received my MSLS from University of North Texas and my MA from Southern Methodist University. Now I am comping my PhD in Medieval History at the University of Houston with a minor in Public History. My dissertation defense is this November and I am looking forward to turning my dissertation into a book.
While at the University of Houston, I had an opportunity to intern at the Galveston & Texas History Center in the Rosenberg Library in Galveston, Texas in 2015. That was an exciting opportunity where I had the chance to process and archive the Lise Darst Collection of papers and photographs. She was a former curator at the Galveston & Texas History Museum and her family documents and pictures were donated to the center. I also had an opportunity to digitize a postcard collection from turn of the twentieth century Galveston. Furthermore, while at the University of Houston, I worked as a Teaching Assistant for the professors in American History and Ancient History. I led discussion sections and review sessions and had a chance to communicate with students and further expound on the topics covered in lecture.
It was the latter experience combined with my library science degree with my emphasis in health informatics that has led me to my current job as the Liaison to the College of Dental Medicine at the Health Professions Division Library at Nova Southeastern University in Ft. Lauderdale, Florida. I interviewed for this position in early April this year and was offered the job three weeks later. I moved out here the last week of May and started June 1. Now I have an opportunity to work students providing them library orientation in the classroom and one-on-one appointments with library instruction and training. I also help faculty with research and projects vital to their work. Every day is different, challenging and rewarding. It is due to the diversity in training, education, and classroom instruction experience provided by the University of Houston that has prepared me for this job and wherever else my career might take me.
Nick Zizinia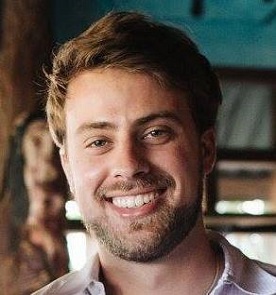 I am a native of Houston, Texas and have just received my MA in Public History. After completing my undergraduate degree at Louisiana State University, along with working in Utah for a year, I found myself drawn back to my home city of Houston, in order to pursue a graduate degree in history. During my first semester in graduate school, I enrolled in Dr. Monica Perales' public history introductory readings course, and immediately became infatuated with the field. I began to understand the myriad ways in which professional historians engage and interact with the public, and following this course, I decided to switch my major from a traditional history masters to a public history track.
A substantial part of the public history degree requires completing 9 hours of internship work. I believe that these internships are essential in learning how public historians work in the professional world, and being able to connect my course readings with my internship experiences was extremely vital. Whether it was navigating painful historical narratives, communicating effectively with team members, or learning how individuals share authority over particular pasts, these two internships allowed me to put my theoretical knowledge to good use.
For my first internship, I worked at the Bryan Museum in Galveston. Began by J.P. Bryan in 2015, the museum features exquisite artifacts devoted to United States' Southwest history, and in particular, that of Texas' history. While I worked there, I wrote labels for several display cases, helped set up the museum's first annual fundraising gala, and performed regular maintenance on the museum's exhibits. Being able to witness how museum employees operate with visitors, as well as behind the scenes, allowed me to understand how public historians can apply their educational backgrounds to museum environments.
After curating the "If You're Ever In Houston," photographic exhibit, I not only wish to pursue a future curatorial position, but I feel extremely prepared for such a role. The exhibit will premiere during the Summer of 2017, and conveys a social and economic narrative of Houston through historic images, ranging from the nineteenth century to the present day. Through the many hours of completing creative and logistical tasks, I feel that I have built up a strong foundation for curatorial work, and hope I can follow that career path.