Launched in June 2019, the A&F Student Ambassadors Program is a new initiative in alignment with divisional strategic goals towards continuous student success. This program provides an opportunity for engagement and connectivity amongst administrators within the Division of Administration and Finance and the Student Community. The A&F Student Ambassadors Program consists of 15 innovative and diverse students that are a true representation of the UH student population. A&F Student Ambassadors will focus on outreach and promotion of A&F processes and services to enhance the University of Houston's student experience.  This program will be assessed in multiple phases to measure outcomes and provide benchmarks to ensure student success throughout its existence. Have a question? Ask an Ambassador! 
What is the role of the Student Ambassador?
Serve as official ambassadors to the Division of Administration & Finance.
Provide various services and referrals to the student community.
Develop an expanded knowledge of the Division of Administration & Finance.
Represent Division of Administration & Finance during school events.
Assist with duties and tasks related to events hosted by various A&F departments.
Work with diverse populations and provide tips on being a successful student.
Maintain a professional appearance.
Assist with a variety of office-related tasks.
Attend Student Ambassador meetings and required training.
Other duties as assigned.
Benefits of Becoming a Student Ambassador
As a Student Ambassador, you will develop a wide range of transferrable skills that will benefit you. Employers, colleges and universities are looking for more than just good grades; they want community involvement and service!  Student Ambassadors will gain leadership skills that will help build their resume, university and scholarship applications. You can earn letters of recommendation, get connected to and serve your campus, and help students and the community learn more about the Division of Administration & Finance.
Student Ambassador Commitment
Adhering to required attendance at the half or full-day training session.
Attending Student Ambassador meetings.
Participating in orientations, open houses, welcome back events, and more.
Working a minimum of 5 hours weekly.
Demonstrating a high standard of professionalism at all times.
Becoming a Student Ambassador
Qualifications to apply…….
Be a currently enrolled University of Houston student.
Have completed 12 credits and be registered for 9 credits the semester the position would begin.
Maintain a cumulative 2.5 GPA.
Demonstrate strong communication (written and verbal) and interpersonal skills.
Exhibit leadership, initiative, dependability, discipline and enthusiasm.
Demonstrate knowledge of the Division of Administration and Finance.
Maintain professional appearance and demeanor.
Possess an enthusiastic, positive attitude and are willing and eager to provide excellent customer service.
Have the ability to work flexible hours.
Student Ambassadors…….
Are positive
Excel communicating with others
Provide excellent customer service
Value and represent the Division of Administration & Finance

Administration and Finance Website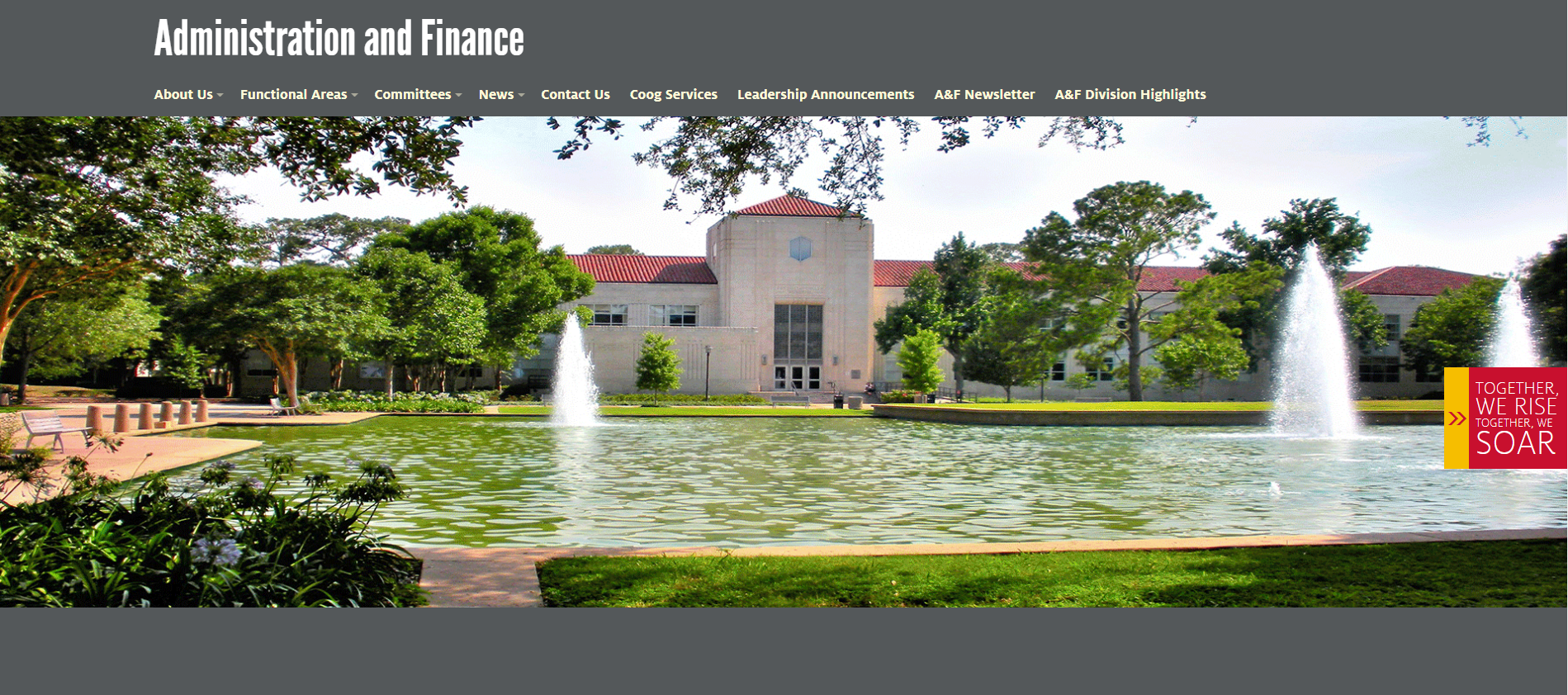 Administration and Finance Student Services Website